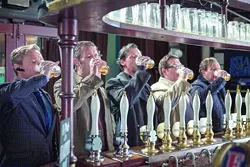 The World's End | B+
Life is hard. Killing zombies, psychopaths and alien robots is easy. Or so goes the premise of most of the films of Edgar Wright (Shaun of the Dead, Hot Fuzz, Scott Pilgrim Vs. the World).
The World's End, the third installment in Wright and Simon Pegg's "Cornetto" trilogy, once again mashes up genre conventions with social satire in order to demonstrate that geek culture is no match for the complexities of love, friendship and middle age. Zombies may try to eat your brain, but the daily grind of life will break both your heart and spirit.
Just ask middle-aged loser Gary King (Pegg). Once the coolest lad in high school, he's now a down-on-his-luck alcoholic. Desperate to recapture the energy and camaraderie of his youth, he cons and connives his long lost mates — Oliver (Martin Freeman), Steven (Paddy Considine), Peter (Eddie Marsan) and Andrew (Nick Frost) — into joining him on a hometown pub crawl through Newton Haven's "Golden Mile," a dozen taverns they attempted to conquer two decades earlier; they didn't make it. Gary believes if they can finally accomplish this one simple quest, all will be right in the world.
As four of the "five musketeers" trudge from one pub to the next, a disenchanted pall falls over the evening. Several of the bars have been turned into chains, no one in Newton Haven recognizes the boys, and Gary's relentlessly selfish antics are growing increasingly tiresome.
Steve hangs in because he harbors a longstanding crush on Oliver's sister (Rosamund Pike), and Peter can't believe that the bully who mercilessly tormented him in grade school doesn't recognize him — by face or name.
What becomes clear in Wright's film is that not only does youth fade, but the town you were so determined to leave when you were young doesn't really care that you left. Nostalgia is a foolish and self-indulgent waste of time. It's not that you can't go home again. It's that home probably matters more to you than you ever did to it.
Until, of course, it's revealed that an insidious extraterrestrial plot is the explanation for your current woes. Forgive me for revealing a plot twist that comes halfway through the movie, but if you've seen any of the film's trailers you'll realize it's a "secret" the studio's are all too happy to give away.
What makes Pegg and Wright's conceit so damn clever is that Newton Haven's otherworldly problems become a welcome reprieve from the soul-deadening realization that Gary's chums are no longer his friends; the girl he once shagged in a bathroom stall thinks he's a dandy, and his hometown doesn't want him back. Fighting off body-snatching robots not only sounds less frightening than real life, it also supplies a convenient explanation for why he's unremembered and unloved.
As The World's End rounds the bend into its second half, it brazenly shifts from the name of the final pub to a conflict with sci-fi-fueled stakes, forcing Gary and his mates to fight for survival and finish the crawl.
This allows Wright to stage a series of slapstick sequences and cheeky confrontations that pit the sloppy freewill of the lads against the tidiness of smiley-faced alien enslavement. It's Invasion of the Body Snatchers meets The Stepford Wives meets Diner set to a '90s mixtape of groovy British pop and rock.
And while name-dropping a trio of well-known films may seem like lazy critical shorthand on my part, Wright is unambiguous about his deconstruction of genre tropes and affectations. His approach invites such comparisons because he's using fanboy obsessions to explore mortality, friendship, responsibility, and lost youth.
Layer on top of that issues like surveillance and consumerism, and you realize that Wright and Pegg's rickety and ridiculous mash-up of narrative elements is actually a sophisticated attempt to grapple with real emotions and ideas.
The World's Endmay come together in an exuberantly slapdash manner, but it has genuine heart, head and humor. And its final assessment of humanity is every bit as despairing as 100-year-old pubs offering up T.G.I.F appetizers with every pint.
The World's End is in theaters now and is rated R with a running time of 109 minutes. Watch the trailer here.