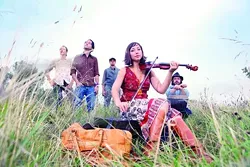 You know how you'll be talking to somebody who is much too self-congratulatory — about how they recycle their recyclable garbage and they get paper bags at the grocery store rather than plastic? The same people who saw the Grateful Dead on one of the reunion tours before Garcia's death, and have been wearing tie-dye ever since?
The members of the Ragbirds are nothing like that. Nothing at all. In fact, singer and multi-instrumentalist Erin Zindle might be the only person this writer has ever heard utter the words "earth-loving" without it sounding like some sort of hipster-contrived bullshit. The Ragbirds love this damned planet, and they really mean it.
The band was formed in 2005 by Erin and her husband and percussionist Randall 'the Hitman' Moore. "My brother [guitarist T.J. Zindle] joined the band in 2008," Erin says. "My husband and I were dating at the time, and we got married a year later. In the last two years, we have found Brian Crist [bass] and Loren Kranz [drums]."
The Ragbirds were originally based in Ypsilanti, but they moved to nearby Ann Arbor when they found a place that could house the band with a garage and a basement in a nice neighborhood at the right price. In Ann Arbor and Ypsi, they found a scene that they could relate to, though Erin found herself hugely influenced by Paul Simon. "I was always most influenced by world music and people who were taking it into the mainstream like Paul Simon, Rusted Root and Peter Gabriel," she says. "I always loved the idea of traveling with my music. From the beginning, I wrote all of the music for the band and I listened to so much world music that I think it naturally came out when I was writing. I'm kind of a folk rock songwriter with a world music influence."
Ah, yes, folk rock. Ever since Jethro Tull's Ian Anderson first picked up a flute and leaped around the world's stages like a drunken, ugly satyr, the phrase "folk-rock" has left a bleachy taste in the mouth, causing the gag reflex to shoot into overdrive. The Ragbirds manage to calm those reactions. "It means music that can be played on acoustic influences, and it has an energy to it," Erin says. "We use both acoustic and electric instruments. Songwriting is the focus, but it's still a very lively and energetic show that you can dance to."
There's an old adage that suggests spouses should never work together, for fear of eventually driving each other crazy after spending so much time together. The couple also has a brother in the band, to add to the family dynamic. Erin says that the arrangement works for everyone. "It's great," she says. "We have a great dynamic. We've always played music together — it's an important part of our relationship. Working with someone very close to you raises its own challenges for sure. But the benefits of being on stage with the people that you love, and to go on all the adventures that we go on together, far outweighs the challenge and I'm really grateful for it."
The band has to get along well because they spend a huge amount of time traveling the country in a small van together. Thankfully, they share common interests and one of those happens to be eco-touring. For the uninitiated, that partially involves pouring used restaurant waste into the van's fuel tank. "We travel in a van that runs on waste vegetable oil," says Erin. "We have a diesel tank and then a tank in the back that we fill with restaurant waste. It's safe, and it produces about 90 percent less carbon emissions. It saves a lot of money, and we tour so frequently. We've had that since 2008, and I'm in the road in it right now. The kit that we have is about $6,000, although there are a lot of different types of kits available, and it's paid for itself many times over. It's a whole lifestyle. It's not just making one change and then patting yourself on the back forever. Our philosophy is about making as many decisions as we can to try to use less waste. We use dry-erase boards instead of writing our set lists on paper. It's about looking at what we're doing and making good choices where we can."
How the hell does that work? Do you have to call ahead and ask diner-managers to save some of the grease from the fried mushrooms, or do you just show up and grab it? "We don't call ahead," Erin says. "We see if it's good quality oil and not the hydrogenated fast-food crap, then we'll ask the manager and staff if we can have some. We explain that we're trying to tour in an environmentally conscious way. Eight out of 10 times they say yes. Sometimes they're really curious about it. They'll come out and see it. It's like me coming to your house and asking if I can use your garbage."
Oh, hell, when you put it like that, it's kind of like the DeLorean in Back to the Future. Anyway, Erin stops short of calling herself and her band mates hippies. "I don't really like that term because I feel it has its own connotations attached to it," she says. "I don't necessarily call myself that. I'm an earth-loving, generally free-spirited person, and a musician, but also I'm running a business."
That right there is the difference between Erin and the aforementioned fakes. She genuinely cares about her planet and the environment within it, and the members of the Ragbirds are making a concerted effort to do something to help. However, she is also savvy enough to know that you can give a shit about the world and want to make a living too. Capitalism doesn't necessarily have to be a curse word, and being green can go hand in hand with making greenbacks.
Rather fittingly, the new Ragbirds live album is called We Belong to the Love, and it is being released around Valentine's Day this week. Erin is pleased with the finished product. "It was recorded at the end of September in two different Michigan venues," she says. "I am happy with it, which is surprising to me because I'm so fussy about live recordings. Of course, they're not supposed to be perfect but there was so much energy in the room and so many people that truly love and support us, that we found it a fun experience. I'm really glad we recorded those shows, even though they're not the best-sounding rooms. We had a great engineer working with us who was able to capture an amazingly crisp sound. I was a little skeptical about putting it out but in the end I was so happy with the result."
On Friday, the Ragbirds celebrate the new release with a big show at Ferndale's Magic Bag, and there will be a few surprises on offer. "We've got some new music we're working on so we'll be playing new songs including the two previously unrecorded songs that are on the live album," Erin says. "After that, we're going to be concentrating on songwriting, writing songs for the next studio album."
Apparently, love never sleeps.
The Ragbirds perform Friday, Feb. 15, with the Joshua Davis Group and the Backoff at the Magic Bag, 22920 Woodward Ave., Ferndale; 248-544-3030; themagicbag.com.
Brett Callwood writes City Slang. Send comments to him at [email protected]