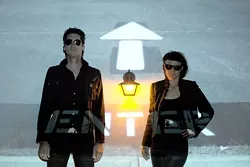 Sometimes it's easy to forget who you are. That's not just a lyric opening a deep track from ADULT.'s first album in six years, its something the duo came to perceive all too well as they took time to recharge and refocus their artistic endeavors. The renowned post-techno tweaking duo returns to MOVEMENT this weekend; they haven't performed the festival since its inaugural year in 2000.
Who is ADULT. (the included
period at the end is part of the band's name)? ADULT. is an electronic music recording/performing duo — but not just that; husband and wife Adam
Lee Miller and Nicola Kuperus
operate ADULT. as a songwriting/
production co-op. They are not merely two musicians however, as both work extensively with visual art: Miller in painting and Kuperus in photography. Three years ago they directed and scored a silent horror film trilogy titled Decampment.
"Now, we pass for strangers /
Do we know each other, anymore?" Kuperus chillingly coos in the album's
penultimate ballad, a dreamy,
new wave nocturne mutation,
traipsing with stutter-stepped beats and haunted by soft blusters from an analog synthesizer.
That song's title, "We Will Rest," is telling because they weren't resting at all these last six years; renovating not just their own home (to optimize personal studio spaces) but also the factory space of another Eastern Market-based artist. The hiatus was unintended, just physically,
psychologically necessary. But the multifaceted duo known for a sleek, sharp sound, (where doom and gloom attained a certain gorgeous, gothic danceability) are back — even if they never left Detroit, their home for 20 years.
Metro Times: We've never heard an ADULT. album quite like Way Things Fall! Some of it actually sounds poppier than what we imagine when we thought 'ADULT.' What affected this shift?
Nicola Kuperus: When we made (2007's) Why Bother, we were really burned out with the way the industry worked — and with ourselves. We felt the balance wasn't right with our art because we're visual artists also, and it'd become too one-sided.
Adam Lee Miller: In interviews, people ask, 'Who are your biggest influences or inspirations,' and we'd often say — because it's true — 'Throbbing Gristle.' But most never got that. What I liked about them, or what I mean by 'inspiration,' is I don't mean to sound like them but how they always had a you-don't-know-who-we-are-attitude. For them, that went song to song. But for us it's been more album to album.
Kuperus: But still maintaining some sense of who you are …
MT: The album has danceable beats but still feels intimate and introspective — private, yet intense. "At The End Of It All," is one song title that resonates an "…at the end of the day," sort of diary-like refrain.
Miller: For a while, we dropped off the grid and didn't pay attention to what was going on; this album was really written in isolation. I think the outside world makes us mad and that's when the records get more angry.
Kuperus: We were writing, but also making the films, working on art; we were also doing manual labor [and] construction work. At the end of the day, when you're tired and beat down, what do you wanna listen to? You don't want something that irritates you or challenges you. You want something that makes you feel good. I think, somewhat, when we started writing Fall we were satisfying some sort of craving we felt. With renovating, we were that late-night construction worker dude, coming home and just wanting to have a Miller.
Miller: (chuckling) I like that we're one singular dude having a beer.
MT: Audiences would like to simplify you, categorize you, as this one thing: "electro-punks," or what-have-you. What's been key, in 15-plus years working together, to continue being yourselves and staying motivated?
Miller: It took courage to stop, having what most bands strive for, a good record label, good booking agent, everything. But we weren't satisfied. We had to recharge.
Kuperus: We also just love making stuff. We're not performers, per se, we just love creating and it's just feelings of never-feeling-satisfied. How could we make this record better. I really love this record. There are bits of both of us inside of it. But, it's like, 'What do we do now?'
Miller: I remember, after we finished the song "A Day Like Forever," writing in my diary that night that I had been trying to write that song for 25 years. That was really satisfying. You hit this plateau in creating — you get it done and then that drops out from under you, and for some reason you need to write another one! What's the next step?
ADULT. performs live on the Red Bull Music Academy Stage in Hart Plaza at 5:30 p.m., Sunday, May 26. Way Things Fall is available on Ghostly
International — ghostly.com; adultperiod.com. More Movement information is available at
movement.us.
Jeff Milo is a music writer for the Metro Times.