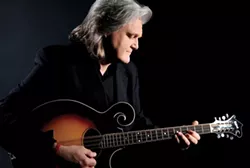 Multi-Grammy-award-winning country and bluegrass man Ricky Skaggs has been a busy boy. His autobiography, Kentucky Traveler: My Life in Music, was released in August to rave reviews, and he has just put out a live album recorded during a tour with Bruce Hornsby, Cluck Ol' Hen. We managed to sneak into his busy schedule to shoot the shit for a while in advance of his gig at the Ark in Ann Arbor Dec. 9 with his band Kentucky Thunder.
Why did you decide to put out an autobiography now?
I'm not getting any younger there. I'm turning 60 pretty soon, but my mind is still pretty sharp, so it seemed like a good time to put it out. It goes through my career, from when I got my first mandolin at 5 years old to early this year. [Writing] was a hard thing to do. I've recorded a lot of records, but this book loomed for about two years. I learned a lot, and I think it's a great book. Some bluegrass music classes want to use it as a history book, and that's an honor, because I was not a good student at school.
How did the live album with Bruce Hornsby come about?
We met each other back in the '80s. He was top of his game in pop and I was top of my game in country. We met up and I jammed with his band, but then I had to go off to another show so we didn't get acquainted very much. Years later, I was doing a television show in Nashville. I thought it would be a great thing to get Bruce to come on the show, so we got reacquainted then.
You seem to enjoy working with him a lot.
Yeah, we realized that every time we got together, musical sparks started to fly. In 2004, he came to Nashville and started working on a project with me [Ricky Skaggs & Bruce Hornsby]. I put it out in 2007, and we went all over the country touring the record with a band. We started doing some live recordings of those shows. After the tour was over, we got to going through them and realized that we had something special. That's how this live album was born.
Do you enjoy coming to Detroit and Ann Arbor?
Oh, I love Detroit. We've always had a lot of fans there because there are so many people from the South that lived in Detroit years ago. A lot of the fans there love traditional country and bluegrass. We love coming back to the Detroit area, and the Ark in Ann Arbor is a great place to play. It's so intimate and right up in your face. I love the town of Ann Arbor too. It's a cool place to hang out for a day.
What can we expect from this show?
Bruce won't be with us for this show — we've finished up our tour for this year. It'll be me and Kentucky Thunder. Our last record out is called Music to My Ears, and we'll be doing some songs from that. Who knows, we may try to work up something from the Skaggs-Hornsby record even though he's not there. We've wanted to do "The Way It Is" just as a bluegrass song, because it really jams well. That could be fun.
Ricky Skaggs and Bruce Hornsby's Cluck Ol' Hen is available now through staggsfamilyrecords.com.