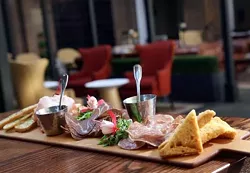 Kresge Court and CaféDIA
5200 Woodward Ave., Detroit
313-833-7900
Kresge Court
Sandwiches: $10-$12
Cocktails: $7-$10
Open 11 a.m.-3 p.m. Tuesday-Thursday, 11 a.m.-9 p.m. Friday, 11 a.m.-4 p.m. Saturday-Sunday.
CaféDIA
Entrées: $10-$13
Open 11 a.m.-2:30 p.m. Tuesday-Friday, 4 p.m.-9 p.m. Friday, 11 a.m.-3 p.m. Saturday-Sunday.
It's tempting to call it an oasis, though the rest of the museum is tranquil too.
Kresge Court is a place that makes you want to talk in hushed tones, as if you were picnicking in a cathedral. The vaulted skylight so far above (the space was originally, in 1927, an open courtyard) helps it feel that way. The faded old brick walls were designed to each represent a different country and century in European architecture, 14th through 17th. You can spend the brief time waiting for your order looking at the gothic stained glass windows and the bas-reliefs: a crane, a phoenix, Pegasus, the Medici coat of arms. Mostly you can just sit and drink in the stillness crossed with beauty.
When I'm there, I just feel lucky.
Seating is at tables or on banquettes, on tall chairs with sockets for your laptops, iPads provided, or in living-room-type conversation groups with midcentury furniture. Art books for sale in the gift shop are on loan here. A person could spend all day in the space, feeling about as relaxed as you're going to get outside of a spa.
Since just being there is 60 percent of the Kresge Court experience, diners are lucky that the food is good too. It's nibbling-type foods or sandwiches and salads, plenty to make a meal.
Prices aren't high considering amounts. A charcuterie board was the highest-piled I've seen, and if the ham was ordinary, the salami and air-dried beef were creditable. Crisp toast is almost sweet; whole-grain mustard is pungent; there's a tiny compote of cherries. The charcuterie, and other dishes, are served with a lovely garnish of deep blue-purple and red flowers.
Three is a normal number for sliders, but Kresge Court gives you four. A spicy duck special one afternoon was served on slightly toasted buns — just right (90 percent of the time, even upscale burger joints treat the bun like a soft afterthought). Thick house-made potato chips are the accompaniment.
There's a cheese board and a crudité board, and pretzels with an Emmentaler sauce. Sandwiches range from all-vegetables to chicken salad with an egg, or prosciutto and fig jam. Glancing at fellow diners' plates, theirs looked to be piled just as high as mine.
Desserts include a fruit tart and a Boston rum cooler made with Vernors and Captain Morgan. We tried the Italian bittersweet chocolate pudding — it's made with olive oil, which gives it a real depth and sturdiness.Highly recommended. On Friday evenings, tapas are the draw.
I'm guessing that drinks are a big portion of the court's business, until folks catch on that you really can make a meal here. Besides Starbucks coffee, lattes and smoothies, there are beer and wine, coffee-liqueurs and good cocktails — call your own or bartender's fancy, like three varieties of mimosa. A couple of drinks are made with Solerno, the blood-orange liqueur, a couple with Sambuca, anise-flavored.
At the CaféDIA, also on the museum's lower level, both the atmosphere and the food are more downscale, but there's no iceberg lettuce here.
The setup is cafeteria-style, with mini-courts where you order soup and chili, breads and rolls, sandwiches, entrées with sides, desserts and pizzas, which are the thick and cheesy Buddy's kind; there's beer and wine too. The salad bar uses good greens and roasted vegetables.
We found the offerings about as good as you're going to find in such a situation. One evening we enjoyed a sweet and thick corn chowder. Salmon was presented with a lemon sauce, with melt-in-mouth sautéed potatoes and buttery, crisp vegetables. Mac and cheese was a double-size serving, and if not quite in Mom's league, at least white and not orange. Biggest surprise was a spicy and smoky side of cooked shredded cabbage, unusual but still comfort food.
Desserts are numerous, from delicate chocolate affairs to various fruit tarts.
Both locations are open till 9 p.m. on Fridays. Employees are extraordinarily friendly — well, most servers are friendly, but these had attitude worth commenting on. If you go on Friday night, you may share the space with avid blue-shirted junior chess champs taking advantage of the game tables set up outside. We saw families here, whereas Kresge Court attracted small groups or solitary dreamers.
Since admission to the museum is free for tri-county residents, there's no reason, when you're in Midtown, not to visit the DIA for lunch, supper, a snack or a drink. Take in the eye candy till your feet are sore, refresh and return.
Jane Slaughter dines forMetro Times. Send comments to [email protected]