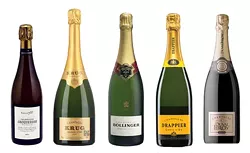 "Tiny bubbles, in the wine, make me happy, make me feel fine." That Don Ho, pure genius, I tell ya. As party people all over Detroit mobilize for New Year's Eve, the Metro Times thought it helpful to give you naves in sparklandia a crash course on the libation of choice for NYE frivolity: Champagne.

Adhering to the letter of the law, only the bubble-laden liquid gold pressed from grapes grown in the Champagne region of France may bear the eponym (notice the capitalization). All other offerings must use the no-name brand equivalent: sparkling wine.

Champagne holds a unique place in the annals of celebration. Its light palate, creamy texture and effervescent taste have secured its rank as the No. 1 choice of revelers in the pantheon of party planning.

Because discerning which Champagnes are the best is no place for novices like us to tread, we asked a friendly booze Sherpa — and a certified sommelier — Anthony Minne to give us a tour. Minne also happens to be the son of MT 's contributing jazz reviewer, Judy Adams. So, as the French would say, "Alors buvons jusqu'à!" (Let's drink up!)
Duval LeRoy, $30
Minne said Duval-Leroy, based in the Vertus region of Champagne, is one of the last independent and family-owned champagne houses left in France. Minne described its taste as "yeasty and biscuit-doughy." He assured us that those are good things and summed up our least expensive suggestion by adding, "the wine speaks for itself."
Drappier Carte-D'Or Brut, $40
Yes, praise the Lord, there is a kosher offering of real Champagne in this column. Drappier has produced a kosher Champagne to which Wine Spectator gave 90 out of 100 points.

"This blend comes exclusively from the first pressing, which gives it its elegance and lightness and also its capacity to mature well," says Wine.com. And, while we normally aren't keen on asking outside counsel to help describe our suggestions, a kosher Champagne is too rare a find to just wing it.

Bollinger, $45
One of France's last independent Champagne producers, Bollinger is the Hollywood starlet of Champagne, having been made famous as James Bond's bubbly of choice.

The wine is barrel-fermented and aged upwards of four — and as long as six — years, which Minne explained is highly unusual for non-vintage Champagne. Our expert said the fermentation and aging process gives Bollinger "more power, body and richness."
Jacquesson, $55
The current bottle on the market, Cuvee No. 734, is nearly three-quarters bottled from the 2006 harvest, which Minee said was a good year for grapes from Champagne. The bottle is also a brut, which doesn't mean it's boorish; brut refers to the fact that little dosage, or sugar, has been added to the bottle.

No. 734 is a blend of Chardonnay (54 percent), Pinot Meunier (26 percent) and Pinot Noir (20 percent). The wine-master said this bottle is his favorite due to its flavor, price and full-bodied style.
Krug, $130
No list would be complete without including the mac daddy of Champagnes. Oddly enough, Krug himself was a German who moved to France in the 19th century (you know what perfectionists those Germans are).

This entry-level Krug may be a blend, versus a vintage (which means all the wine was bottled in a single year), but the wine can be 10 years old before it gets included in a bottle. Minne says Krug tends to be rich, creamy and toasty — perfect for our party.