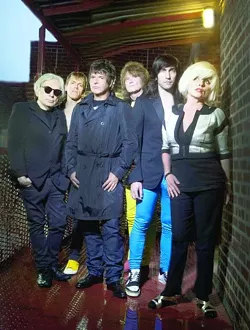 Chris Stein is a founding member of New York new wave punks Blondie, alongside the inimitable Debbie Harry. Stein plays guitar, and he and Harry wrote many of the Blondie classics together, including "Heart of Glass," "Picture This," "Rapture" and "Dreaming." On Thursday, Sept. 12, Blondie plays the Royal Oak Music Theatre with L.A. punks X. We grabbed Stein to ask the amiable but mildly awkward guitarist what it'll mean to be back.
Metro Times: What are your memories of playing Detroit?
Chris Stein: After thousands and thousands of shows, things get blurry. My memories of Detroit are of wandering around the streets and meeting people more so than the shows. There's certain nostalgia, because New York used to be more in a beat-up shape, and now there's all the fucking money and the elitism that comes with it.
MT: There's a song on Plastic Letters called "Detroit 442." What was that about?
Stein: That was an Iggy reference, but also it was about the energy of the city.
MT: Do you have any favorite Detroit artists?
Stein: Not particularly. I just love hanging out in Detroit.
MT: What keeps Blondie hungry after all these years?
Stein: It's just what we do. There's a built-in momentum. It's easier to tour nowadays. I wish things were as easy when we were younger as they are now. It was a lot harder back then. The idea of not doing it doesn't really enter our minds.
MT: What can we expect from this show?
Stein: We're doing a lot of new songs and they're getting a good reaction from the fans, as well as the old stuff. We've been touring the UK and having a good time, so we've got the show down.