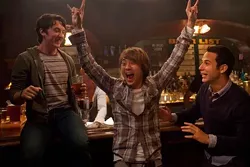 21 and OverC
Bros will be bros in this bawdy college comedy, which sticks to the curriculum while sending a crew of eager young horndogs out on the town for a wild night of unruly and all too familiar yuks; though, fittingly, like any good all campus rager, you will be unable to recall the details the next morning.
These are the kind of guys who use "party" as a verb, a noun and an adjective, though by the rowdy, bottom-barrel standards of the genre, their antics feel sort of quaint. Oh, sure, they cause massive property damage, discharge a firearm in public, throw a dart through a dude's cheek, urinate on bar patrons, projectile vomit on a mechanical bull, paddle the butts of some nubile female pledges, and unleash a live buffalo in a crowd of students. You know, all regular Tuesday night stuff. OK, one of the dudes does get a teddy bear super-glued to his genitals, but who among us hasn't had that happen occasionally?
As the obnoxious, wisecracking trouble-making underachiever Miller, Miles Teller (Footloose) does a fairly credible Vince Vaughn impression, with a bit of a Jason Lee chaser, though his relentless snark begins to grate. Skylar Astin gets to be the uptight, Ben Stiller-like foil, and he's just as blandly acceptable here as he was in the much funnier co-ed romp Pitch Perfect. The handsome but drippy Astin has a flirty romance subplot with chipper, pearly white-toothed blonde Nicole (Sarah Wright), a fun-loving, sex-positive daredevil gal that plays like Maxim readers' daydream of what smart women might be like in the wild.
Justin Chon is saddled with the most clichéd of stereotypes: the buttoned-down Asian who turns into a rampaging, sex-crazed, uninhibited animal after a few drinks. The screaming ghost of Kenji Watanabe's immortal "Donger" character from 16 Candles looms over the proceedings.
21 and Over is sort of amiable even at its raunchiest, and there's something almost sweet about a modern comedy where the leads stick to chug-a-lugging brews and shots, and never freebase meth while riding unicycles.
Co-directed by the writing team behind The Hangover, this feels like a starter movie, and a bit of a regression. Too many of the jokes just sort lay there, like the passed-out stoner on the couch at the kegger, but we're willing to give these guys a pass, as long as we don't see them back next semester.