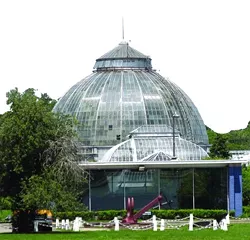 Drinking Law Add-Ons
Dear Editor:
Regarding the new "4 a.m. drinking law": … They have to have a guard. How about adding on they have to have live music. Think how that would add to the employment of musicians; and for the bar it is an expense that is a [tax] write-off.
Benny Speer
Inkster, Oct. 4, 2013
Safeguard our Jewel
Dear Editor:
re: "City Leases Belle Isle to Lansing" [News Blog, Oct. 2, 2013]
I'm in agreement with the state leasing Belle Isle, though I'm not thrilled with the 30-year lease. Last year, in the May 2, 2012 edition of The Detroit News, the headline was "Detroit Cuts Could Mean Longer Grass, Belle Isle Restrooms Closures," and I say if the city can't cut the grass and keep the restrooms open, it doesn't need to be running the island.
With Belle Isle destined to become a state park, maybe it can return "to those thrilling days of yesteryear," and as Mayor Bing said, "… restore the historic park to its early 20th Century grandeur."
Thomas A. Wilson, Jr.
Detroit, Oct. 2, 2013
Not Mind Readers
Dear Editor:
re: "Fashion as Street Cred"[Fashion, Sept. 25-Oct. 1, 2013]
As always, great work. The article was missing some critical info on Pilling's Gallery featuring Efe Bes. The address of "where" and "what time," and maybe a phone number to the gallery would have been great to include in the article.
I was so pumped to see great positive things happening in Detroit, so we need to ensure people always know the details to be supportive and get involved.
I'm blessed with Internet access in my home, but you've got to keep in mind not everyone has immediate access to the Internet, so it's helpful and important to included detail information in your articles.
Lynn P. Rhodes
Southfield, Oct. 5, 2013
Editor's Response: Point well taken, Lynn. Efe Bes will be playing at 7 p.m. on Thursday, Oct. 17, at the Presence II Productions Gallery of Decorative Arts and Design, 1274 Library St., No. 1A, Detroit.