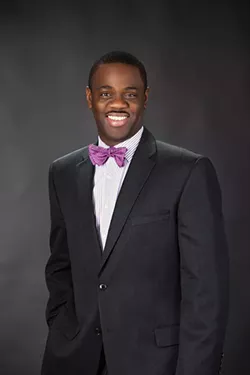 Known as both the Council's president pro tem as well as for his collection of assorted bow ties, André Spivey returns to council chambers next year as District No. 4's representative.

In his current term, Spivey holds the post of Vice-Chairman for the Public Health and Safety Committee and co-chair of a task force to help rehabilitate incarcerated people. He has also served on committees for the body's internal budget and represented Council on boards for Belle Isle, the Detroit Zoological Society and the Eastern Market.

Before his life as a councilman, Spivey was appointed by Gov. Jennifer Granholm to serve on a transition team offering community input as the Detroit Public Schools' Board of Education switched from state takeover back to being locally led. He was also appointed by Wayne County Executive Robert Ficano to serve on the blight-busting Brownfield Redevelopment Authority and the Wayne County Economic Development Corporation.

A Detroit native and Cass Tech alum, Spivey is also an ordained minister and pastor at Detroit's St. Paul African Methodist Episcopal Church. Despite this, Spivey has been careful not to govern as a theocrat.
He took heat for distancing himself from a citywide attempt at a clampdown on strip clubs, telling The Michigan Chronicle, "I'm not here to pastor the city of Detroit." Originally opposed to the emergency financial manager, Spivey has since reversed course and promoted cooperation between council and Detroit's emergency manager, Kevyn Orr, after Orr took that post.

According to a profile on District 4 by the Detroit Free Press, there are at least 4,756 dangerous buildings within the district, buildings Spivey has said he wants to demolish with federal funds. District 4 also has hundreds of acres unused properties, parks and urban prairies, including the sprawling, long-neglected Chandler Park.

Spivey has said that he also wants to create economic opportunities so people can get their basic needs met within the district without having to go to the better-off bordering Grosse Pointes. He has also said that he wants to revitalize Mack, Jefferson, and Gratiot — his district's major thoroughfares.

While his office could not be reached for comment on specifics about the councilman's agenda for next term, we trust his political plans will be as tight as the knots in his bow ties.

DISTRICT 4

POPULATION & VOTING DATA
Total District Population: 98,666
Voting Population ( >18 ): 68,761 (69.6%)
Voter Turnout: 22.6%
Percentage of Vote Won: 54%

RACE & ETHNICITY
Hispanic: 789
Non-Hispanic White: 5,339
Non-Hispanic African American: 90,212
Other: 2,326

INCOME & POVERTY
Per Capita Income: $13,786
Percent of Households in Poverty: 35%

EDUCATIONAL ATTAINMENT
Percent without High School Diploma: 22.2%
Percent with High School Diploma: 35.6%
Percent with Some College: 25.6%
Percent with Associate's Degree: 6.4%
Percent with Bachelor's Degree: 7%
Percent with Master's Degree or Greater: 3.2%