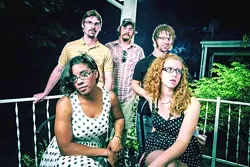 There are a couple of things you should know about Eleanora from the get-go: It's a band, not a female solo singer; it uses violins (note: we didn't say fiddles), but it's not a Celtic folk band; and there are two couples within its ranks. Take that, Jack White.
In fact, Eleanora is a band truly unlike any other, and that's kind of the point of what these five people are doing — creating something unique and intellectually challenging out of the traditional and familiar.
The resulting music is compelling and emotional; the vocal harmonies and classical strings of Leah Dunstan and Julia Stephenson beautifully complimented by the musicianship of drummer Scottie Stone, bassist Jim Dunstan and guitarist Dave Schultz — in turn heavy as a hammer and gentle as a head massage.
The band has been playing together for three years now, Leah Dunstan says. "I was playing with a guy named Blair [no surname], and Scottie [Stone], our drummer, was introduced, and through Scottie I met Julia," she says. "When Blair went on tour, Julia and I were both playing with him, but we had day jobs, so we couldn't go. Jokingly, he said that we should start a band. We started chipping away at it, just she and I.
"A bass player, who was my boyfriend at the time (he's now my husband), he started playing with us. Dave, our guitarist, was Jim's best friend, and then Scottie was the last to join. It was like an acoustic thing, and then when Scottie joined with his electric, thunderous drums, it changed the whole dynamic. We were off and running from there, really," Dunstan says.
Dunstan describes the Eleanora sound as orchestral rock music, but knows that doesn't tell the whole story. "We're trying to do something different but not quite eclectic," she says. "It's very edgy, but it's cerebral. It's like the thinking man's music; music for a musician."
The Eleanora sound has gotten edgier and harder over its three years together, as members have entered the ranks and relationships have developed. It also helps that Dunstan, Stephenson and Schultz all write songs for the band.
"We are two couples — me and James the bass player, and Scottie and Julia," Dunstan says. "You have this kind of couples dynamic, which doesn't always come up as much as you'd think, but we've been playing together so long, I almost don't even have to write a complete song. I can just bring an idea to the group, and it will make Julia think of a certain type of violin, and she'll start to lay that in. It's very organic.
"Now we've been so used to playing with each other, when I'm writing a song I can already sense what Julia's going to think and what she's going to bring to the table. On the flip side, because we're all such different personalities, somebody's always contributing something that I might not necessarily have thought of or written. It keeps this very fluid collaboration process going on," Dunstan says.
The "two couples" thing is interesting. Many a great band has found itself broken apart because of a fractured personal relationship. Locally, and in recent years, see Passalacqua and Silverghost, among others. For Eleanora, the dynamic is working.
"It can be tricky, but it ended up working for us just because it's never been an issue" Dunstan says. "Whenever there's an issue, it's more likely that it will be in between the two couples than the couples fighting with each other. It's an incredibly democratic group. When we step into our rehearsal space, or step on stage, it's not two couples. Eleanora is always the dominating factor. She's almost like her own person. We joke about that. We're all quiet — I like to read, Julia's an artist. But when we get on stage it's a whole other animal because we all get infused by this overarching feeling of coming together — and becoming Eleanora."
While all of the band members have lived in the city of Detroit at one time or another, Dunstan doesn't believe that the band is defined by any location. "We're not technically a 'Detroit' band, we're not technically an 'Oakland County' band," she says. "We straddle both. It's more like a community feeling now. I'm born and raised in Detroit, and the band has all lived there separately. Now I'm in Hazel Park and Julia's in Ferndale. We still have a Detroit edge, but I don't feel like it defines us. If anything, we want to be a flag bearer for different sides coming together. We're an interracial group, which is not that rare but we have that going on. Also, we have the male-female thing. You don't always see bands with both girls and guys. I don't know why."
For Dunstan and her bandmates, the aim of an Eleanora show is to convey their passion and emotion to the audience, while making each and every person think a little. They want to generate excitement and energy, rather than looking out into a sea of pondering pseudo-intellectuals.
"It should make your heart race a little bit," Dunstan says. "We're so passionate, and we're so excited and believe so much in the music that we're making and what we get up there and do. We give 100 percent at every show. We're leaving it all out on the stage. Scottie might take off his shirt and I'll be dripping sweat. We'll be smiling at each other and it's very engaging. It's exciting. It should make you think about it later. It's beautiful music. We have harmonies going, the violin, there's a clarinet, a lot of things sonically that give the listener so many interesting things to experience.
"Also, because we have Julie, myself and Dave writing the songs, you'll never get tired of it. You'll never get bored. If you come away from our show thinking, 'Whoa, boring,' you didn't get it or you were in the wrong room. We're trying to make you think, we want to make you dance; I want to get under your skin. It's a little sexy, and all of those things add up to people having a good time."
This weekend, Eleanora will perform on the main stage of the Arts Beats & Eats festival. Leah says the band is genuinely thrilled. "This third year has been a huge year of growth for us, because we've been working so hard," she says. "There are so many bands in this city that are phenomenal that it takes time to make a name for yourself. We're just now starting to reap the rewards of that, getting the Arts Beats & Eats show. It's such a great festival. It's so iconic — people instantly know right away what you're talking about. Being able to play on the main stage with such great acts has put us all over the moon. It's a reminder that we're doing the right things so we have to keep at it."
And keep at it they will.
Eleanora plays at 5 p.m. on Friday, Aug. 30, at the Main Stage of the Arts, Beats & Eats Festival in Royal Oak.
Brett Callwood is a staff writer for MetroTimes. Send comments to [email protected]