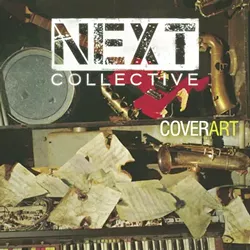 The Jazz group Next Collective is aptly named, as "next" implies newness or something that is about to happen, and the ensemble truly has a collective sound. In addition to being a collective, they are also a collection of today's hottest young jazz artists performing on the world stage. On their major label debut release, Cover Art, they reinterpret the music of such diverse artists as D'Angelo, Pearl Jam, Jay Z and Kanye West, Meshell Ndegeocello and others.
With the band members' average age hovering around 30, the newness of their sound reflects current influences such as hip hop, electronic instrumentation and technical effects. This is combined with a comprehensive understanding of the jazz idiom, resulting in an exciting, fresh sound fueled by their energy, passion and virtuosity.
When I first played Cover Art, I was hooked with the first few notes — and was pleasantly surprised to discover that the entire album made me want to sit down and take notice of what they were creating.
Much of the album's power owes itself to the caliber of the musicians' talent. Next Collective has seven members who appear in various combinations throughout the album's 10 tracks, with several of them also producing and arranging. They include New York-based Logan Richardson, who plays alto saxophone and flute, and has played with Joe Chambers and Greg Tardy. Walter Smith III is on tenor saxophone and bass clarinet; he's played with Terence Blanchard and Herbie Hancock, among others.
Toronto native Matthew Stevens is a guitarist whose masterful playing has been turning a lot of heads lately; and Esperanza Spalding and Lonnie Smith have included him in their bands. He currently lives in New York. Their highly acclaimed pianist, Gerald Clayton, also records for Concord and is the son of bassist-bandleader John Clayton.
The collective is rounded out by Juilliard's Kris Bowers on Fender Rhodes, Ben Williams (also with Pat Metheny's Unity Band) on basses, and award-winning Jamire Williams on drums. The talented trumpeter Christian Scott, aka Christian aTunde Adjuah, appears as a guest artist on five tracks.
The opening track cover of Little Dragon's "Twice" acts as a perfect introduction to the band's unique sound. There they combine thematic material from fast tempo, baroque-style contrapuntal horns and piano to Matthew Stevens' modern guitar sounds and edgy effects, all of which provide a slow and soulful backdrop for the horns, featuring Logan Richardson — who was also the arranger.
The album continues with intertwining styles and superb musicianship for a great listening experience.
Judy Adams is a Detroit-based radio personality and musicologist who also provides album reviews for the Metro Times. She is host of a free-form progressive music show on CJAM 99.1 FM. For more reviews, see judyadamsmusic.com