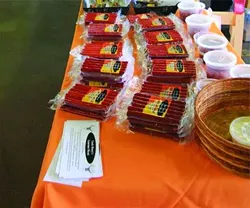 You don't have to be in the dining business to get a piece of the barbecue bonanza. Take the folks at Uncle Henry's Gourmet Meats. The Troy-based business was born a few years ago when Bryan Mazurkiewicz, one of the operation's principals, was still working in his former craft — building houses.
Mazurkiewicz's father-in-law, Henry Kolbuch, who, along with wife Carol, had been processing meat for three decades as a hobby, always gave Mazurkiewicz some of their home-smoked jerky, and the builder took a bunch of it to work one day. A contractor friend of his sampled it, loved it, and asked if he could buy 10 pounds of the stuff.
Kolbuch knew it took 20 pounds of meat to make 10 pounds of jerky, and somehow the whole thing wound up becoming a much bigger production than you might at first imagine. Kolbuch went to an elk ranch and bought an entire animal, turning it into jerky. By the time the last piece of jerky was sold, the net income was $2,800.
Given the uneven housing market, Mazurkiewicz and his in-laws decided to join forces and create a new business. At first they planned to run a game-smoking business for part of the year, but demand soared.
Now Uncle Henry's runs stalls at farmers' markets around metro Detroit, selling frozen sausages, as well as offering catering and dispensing mouthwatering pulled-pork sandwiches.
Their operations are based out of their smokehouse, which opened in 2010. In fact, the whole space was built new, with a smoker, a retail area and a 700-square-foot cooler — all nestled in an industrial space in Troy.
Under their retail food establishment license, they can't build a brick-and-mortar smokehouse, since all equipment has to be NSF- or UL-listed. So they use an approved electric smoker, capable of hot and cold smoking, and often use hickory or cherry wood to flavor the meats using the "low and slow" process.
Mazurkiewicz says, "It looks like a big refrigerator, but it allows us to put our probes in it to record heat and moisture. Smoking is just a matter of heat, moisture levels and time. The other factor is the smoke, which not only changes color of meat — it's why smoked kielbasa has its dark skin — it also adds flavor. You get a cherry color, and you also get a hint of that cherry wood flavor. I prefer that smoky flavor. It feels like camping, or being up North."
Although they do a brisk business with their smoked sausages and pork, they still do smoke quite a lot of game. Mazurkiewicz says they have to close down the retail part of the shop when he's smoking game for clients — usually Nov. 15 to Jan. 1 — and that most of the meat they process is venison. The results can be outstanding. He says, "We can make a smoked venison hindquarter that is out of this world."
To sample Uncle Henry's wares, Mazurkiewicz says you can find them at area farmers' markets, or visit their retail shop. In spring and fall, they'll often invite customers to join them for lunch on Tuesdays, give tours of the facility, and sometimes even offer samples to take.
Usually, though, and especially during the busy summer season, Tuesdays are devoted to work, given the relentless demand.
Mazurkiewicz says, "We thought this would just be a seasonal thing, but it really has turned into a full-time business." —M. Jackman
Uncle Henry's Gourmet Meats is at 1331 Piedmont Dr., Troy; 248-740-8755; unclehenrysgourmet.com.