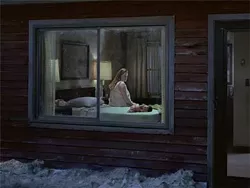 There is no shortage of documentaries that obsess over the personalities and psyches of celebrity artists. Most fawn over their subjects, eager to distill and define their brilliance by playing a game of biographical connect-the-dots. The narrative arc of these films is often the same: Upbringing begets inspiration, which, after personal setbacks, instances of hubris or cultural backlash, begets importance and influence. Talking head interviews extol the uniqueness of these creative pioneers and the triumphs of their genius over the status quo. If the artist leads a colorful, outsized life, all the better.
Ben Shapiro, the director of Brief Encounters, wisely takes a different approach to his profile of Gregory Crewdson. Mostly focusing on the esteemed photographer's process of creation and the technical challenges to achieving his intricately micro-managed yet evocatively cinematic tableaus, Shapiro's doc, at times, feels like an artistic procedural. We follow Crewdson as he cruises — some might say stalks — western Massachusetts, scouting for the location of his next elaborately staged photograph.
His focus is on the postindustrial suburbs and small, blue-collar towns that time has forgotten. Melancholy, decay, emptiness, mystery and loss are signature attributes of his arresting and highly detailed human landscapes.
Crewdson says he is trying to capture "the moments between the moments." Once he's found what he wants, a long and meditative process, a frenzy of planning, design and production begins. Each photograph is treated like a small independent film, and is supported by a large film crew, which labors to construct on-location and sound stage sets for Crewdson's detail-obsessed visions.
For nearly a decade, Shapiro followed Crewdson, charting his eight-year, 50-photograph project Beneath the Roses. Though there are brief detours into the artist's biography — his father was a psychoanalyst, he flirted with early rock and roll success, his influences were Diane Arbus and David Lynch's Blue Velvet — and a few talking heads (his teacher Laurie Simmons, authors Russell Banks and Rick Moody), the movie mostly takes us backstage and on-set, providing an insider's view of an artist working his craft. It's a fascinating juxtaposition of manic preparation and single-shot creation. Shapiro highlights that contrast by immersing us in the frantic and finicky process of creation and then the sudden freeze frame of the final photograph. The effect can be both surprising and sublime.
Though Shapiro's documentary is barely 75 minutes, it presents the creation of a half-dozen of Crewdson's photos — all are fascinating — and offers enough of a portrait to connect the man to his work. What the movie lacks is a sense of context — how Crewdson's work is received and what it means in the larger realm of art photography. His references are clearly cinematic — ranging from 1950s melodramas to Hitchcock's Psycho — but it's unclear whether he is viewed as an artist for today or always.
That said, there's an argument to be made that Gregory Crewdson: Brief Encounters could dig deeper into Crewdson's process. It would be interesting to hear more from those involved with his creations, both the professionals and talent (most of his subjects are locals or random individuals). Had Shapiro emulated Crewdson's quest to find those in-between moments, snapsots in time that defy story or history, he might have provided the kind of definitive experience many documentaries seek yet few find.
Shows at 9:30 p.m. Friday, Jan. 11, 7 p.m. Saturday, Jan. 12, and at 2 p.m.
Sunday, Jan. 13, at the Detroit Film Theatre, inside the Detroit Institute of Arts, 5200 Woodward Ave., Detroit; 313-833-7900.