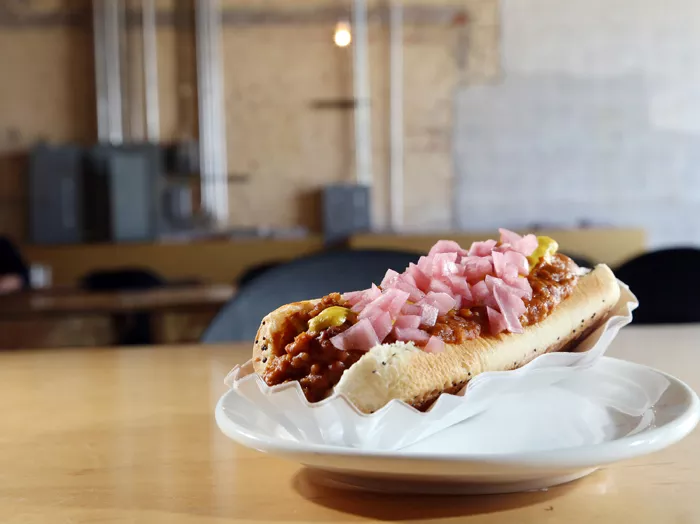 Note: This restaurant has since closed.
Topsoil Café at MOCAD
4454 Woodward Ave., Detroit 48201
313-832-6622
Handicapped accessible
All items $3.50-$7
Hours: 11 a.m.-5 p.m. Wednesday, Saturday, Sunday; 11 a.m.- 8 p.m. Thursday-Friday; and whenever MOCAD is open for special events
Life used to be more bifurcated. You ate at times, and when you were doing something else, you didn't eat. But — and some people would blame this on corporate marketing run amok — we started getting the message that food should be available in all places and at all times. Just a continuous stream of nutrients, or at least calories, down the gullet.
In bookstores, it started with coffee; was Borders the first? Pretty soon browsers could get java at just about any place books were sold, and museums followed suit. Then the offerings accelerated: muffins. And now museums, in their continuing quest for visitors, are getting liquor licenses and hiring good cooks, the DIA being a case in point.
In the case of Topsoil, new since Feb. 5 at MOCAD, the owners hope to kill two birds with one stone — metaphorically (the place is vegan). They can attract vegans and feed them a dose of culture on the side, and they can make the big, echoing museum space more welcoming for everyone, more possible to spend a long visit in, more of a wrap-around destination.
Topsoil belongs to and is run by Eastern Market's Russell Street Deli, though the menu is the same only as to soups and house-made lemonade and mint tea. It breaks with veganism enough to crack an egg wherever the customer requests it ($1.50).
Accoutrements are a mixture of throwaway and not — sizable, good quality napkins, crockery bowls with Japanese-style spoons and heavy metal cutlery, but salads served in carry-out plastic. Pour your own water into a compostable plastic cup; bus your table. The eating space contains plain but scarred tables on the way into the museum proper, dwarfed by the dimensions of the mammoth former auto dealership.
Kamal Pendergrass says thus far customers' most-ordered items are curry and, oddly, a vegan coney. Maybe it's the novelty factor — the notion of a vegan coney makes me think of Samuel Johnson's quote about a dog walking on its hind legs: "It is not done well, but you are surprised to find it done at all."
This dog had little flavor and the chili atop it was bland. Non-succulence may go with the soy dog territory, but I don't see a reason for chili ever to be insipid.
Far better was a gargantuan, humongous bowl of soba, enhanced by the above-mentioned poached egg. Tofu, scallions, lots of parsley in a shiitake broth and some still crisp greens — it was enough to satisfy any threesome of foot-weary art-gazers. And I love this about soba from Wikipedia: "In Japan, it is considered acceptable to slurp the noodles noisily. This is especially common with hot noodles, as drawing up the noodles quickly into the mouth helps cool them. However, quiet consumption of noodles is no longer uncommon. [citation needed]." Like, who says?
The curry promises to deliver one legume and one seasonal vegetable — once we get to a season that has vegetables, Pendergrass notes. It was on the bland side too, except for welcome flashes of cilantro, but it was magically enhanced by mixing in some delicious and not-bland-at-all raita.
Salads are praiseworthy, in particular one of arugula with Asiago. Its apple cider vinaigrette was wonderfully fruity but light. Another topped mixed greens with corn and black beans and lots of Mexican cotija cheese, with a mustardy dressing. And a third was mesclun with red onion rings, Gorgonzola, dried cherries and pecans. I'm a bit weary of the cherries-and-cheese trope myself (this salad is almost always dubbed "Michigan"), but there's a reason it's popular, and the pecans are a nice touch.
By far the least successful dish on the menu is cold sesame noodles, gluey and almost preternaturally lacking in flavor. I took mine home and tried to rescue them with scallions, cilantro, lime, soy sauce and even peanut butter, but they were beyond help.
If proof were needed that vegan needn't equal healthy, one night a banana muffin with chocolate chips was offered. Also possible are a fruity-tasting chocolate cookie and a peanut-butter blondie, a bit salty.
They are in the process of getting a license for beer and wine, but in the meanwhile they offer Mexican Coca Cola and San Pellegrino Aranciata Rossa, a sparkly canned drink made with 3 percent luscious and tart blood orange, which seems to be enough.
Art is supposed to unsettle. So, leaving the cafe area with a fully tummy, seek out the "State of Exception" exhibit, which gathers the detritus left behind by undocumented migrants in the deserts of Texas. Considering the deprivations these folks went through to make it to the Promised Land, any food criticisms by restaurant reviewers quickly become irrelevant.