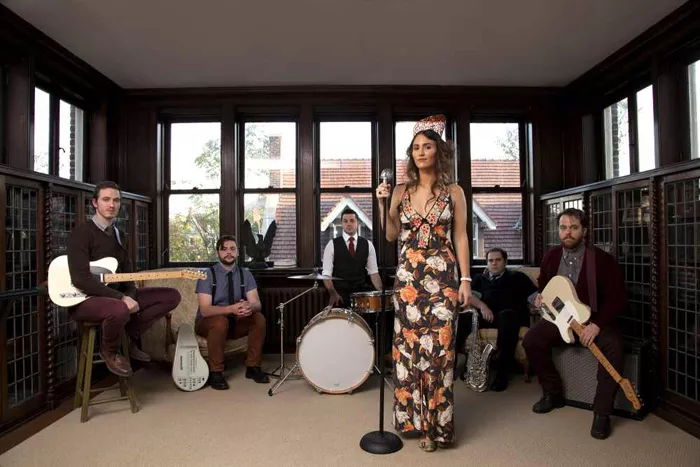 This is a fantastic time for Detroit music, because it's capable of throwing up so many surprises. Especially in this modern era, when the city doesn't really have a specific sound to champion, but rather an eclectic set of talented and driven musicians, many heading in completely different directions.
Take El Dee. You've got a bunch of guys backing a singer-songwriter, and, on the face of it, the music could go anywhere. That singer, Lauren Deming, has a smart, cute sass in her eyes. Her band, meanwhile, is made up of a charming group of guys, but there's no way of knowing, based on their appearance, what this band sounds like.
In fact, El Dee (the band name comes from Deming's initials) plays a sort of poppy jazz. Amy Winehouse is the obvious reference, due to the fact that both have (or had) one foot in the past while looking forward. But this band is aping no one.
The interview takes place at Deming's loft apartment, in the Eastern Market area of Detroit. It's a great space — the surrounding buildings are filled with and covered in art, and from Deming's window you get a great view, with Ford Field looming large in the background. The whole band joins us — Nicholas Maher (guitar, keys, piano), Jonathan Leaf (keys, guitar, samples, vocals), Steve Hagen (bass, vocals), Alex McQuiston (percussion, samples), and Tom Bustance (sax).
The apartment might be Deming's, but the guys all look at home here. The band gathers on sofas around a coffee table (a Metro Times sitting atop of a pile of magazines, though they swear that's an accident), and immediately has the air of a solid unit. It's easy to imagine important band decisions being made in the same place between these people. It's also easy to see why somebody would be able to retain a svelte figure while living here — every time somebody arrives, Deming has to dash down the stairs to let them in thanks to an unpredictable elevator.
The recent album Endearment is a sparkling piece of work. Deming's songs (some of which were originally written to be performed solo) benefit from the addition of a full band, including the occasional horn section. The songs are sultry, like nightclub jazz from another era, but they're also incredibly good fun, catchy and very hummable. This is a band scratching out its own place, a unique identity, in the local scene.
The band formed in the summer of 2011. "It was right after I started recording the record on my own with producer Ben West," Deming says. "I needed to get a band and translate it into live performance, and these guys all came together. I've known all or most of them since I was in middle school. We were just looking to replicate as closely as we could the album in a live setting."
So there was an element of necessity that forced these people together, a show at the Pike Room in Pontiac looming. Still, it all worked out. That first show went well, and the band stuck together. "At that point, people thought that it could be an interesting thing," Maher says. "A lot of the songs that we played ended up going through a transformation process with Ben West. Some songs that we played, we never touched since. So the album wasn't the thing that brought us together, but once we heard it in its final state, we turned this thing out together, then our focus shifted. This is a phenomenal sound, we have enough parts to make it happen, how can we all do this?"
From there the band worked hard to improve on a solid start, pitching ideas back and forth. El Dee kept bettering its live performance, fine-tuning it over and over, something that it still looks to do. "We didn't play too often, but we played shows here and there," Deming says. "Then we got approached by Quack Records and that took awhile for us to sign with them. Then that happened, and here we are."
Indeed. And the band's poppy jazz with Motown and electronic edges is getting smoother by the week. "Lauren's voice has a vintage feel, but the instruments are all modern," Hagen says. "She's playing Wurlitzer and then these guys are playing '80s keyboards. The instruments are from a bunch of different time periods, making a unique sound."
Of course, that's not to say that El Dee hasn't had its hiccups. "Before we had our setup dialed in, we were very susceptible to technical difficulties, too many moving parts, and we all like to have a good time too, which doesn't help," Maher says. "At Woodbridge Fest, we were rushed and we were drinking. We had to sacrifice the first couple of songs. Each of us has four or five things going on. Any show that we've had trouble with, chances are it's because of all the equipment. I feel like it's been a long time since we felt poorly about how we played or how we executed our set."
El Dee has had a tough time setting up shows because, despite the fact that the band members like a lot of other groups in the Detroit area and are friends with many, they don't always feel that it would be a good fit. They might be underestimating the ability of the average Detroit concertgoer to hear a variety of genres on the same bill, but still, it has to work.
"We really do care about who we play with and who we fit nicely with," Deming says. "Right now, we're just emerging. No one has ever known that we existed, and now we have a product to give people. It's too soon to tell, but I really feel like we will feel more of camaraderie with the Detroit music scene as we continue to do our thing."
With the release of Endearment, a forthcoming CD release show at the Loving Touch, and a video in the works for the song "Morning Glory," one can only imagine that a lot more people will know about this band very soon.
El Dee's Endearment album is out now. The CD release party with Psalm and the Cold Wave is on Saturday, March 29 at the Loving Touch, 22634 Woodward Ave., Ferndale; 248-546-3644.