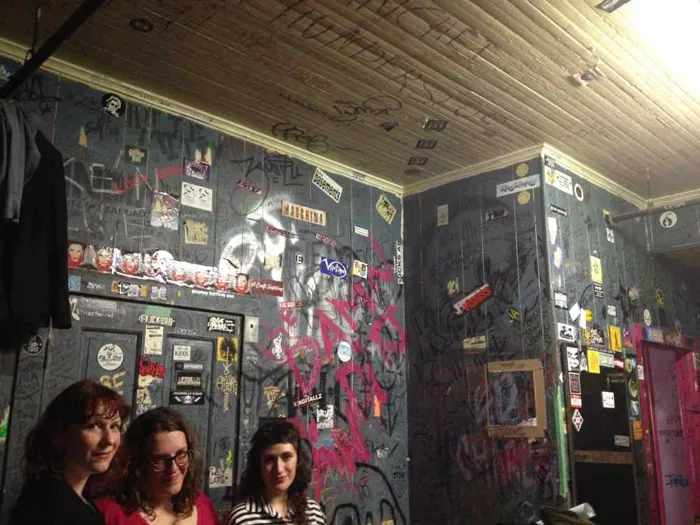 The ladies of Casual Sweetheart hadn't even met before their first practice. Now, nothing could break them up. The members got together through an online feminist group, when Erin Norris of Ann Arbor posted that she wanted to start a band. "I just wanted to get out and play more," Norris says. The posting drew a response from multi-instrumentalist MaryAnn Kozlowski, a northern Michigan native who went to college in Olympia, Wash., where she connected with musicians and activists while interning for Kill Rock Stars, a label noted for championing riot grrl bands like Bikini Kill and Sleater-Kinney. Kozlowski says, "I always wanted to start a band, but was intimidated by the male-dominated music scenes I'd witnessed or been on the periphery of …" The ad also attracted Lauren Rossi Harroun of southwest Detroit, who grew up around musicians and only picked up a bass a year ago.
The girls, naturally, all identify as feminists and some of the lyrics perhaps subtly exude feminist tones — though the music itself is a boundary-pushing blend of psychedelic punk and avant-garde garage rock.
Metro Times: No one knew each other before this band. And then, six months after you start, MaryAnn tells you she's moving to Lexington for school … and yet you're sticking together.
MaryAnn Kozlowski: I call Michigan home, though. I'm working on a Ph.D. at the University of Kentucky in Gender and Women's studies.
Erin Norris: I think she was nervous to tell us, worried that'd be the end of the band.
Lauren Rossi Harroun: But things had been going so well, we were really enjoying playing together, we decided to give it a try. It's difficult not having her here all the time, since each song is collaboratively written, 100 percent.
Norris: The chemistry was so great. We came together first as a band and through being a band we developed friendships.
Kozlowski: How we each care about the band manifests differently: Erin's very focused, very type-A, a get-things-done kinda person. Lauren is so supportive; she's one of the most optimistic people I've ever met. I've been in so many bands with so much drama — someone wants to be the rock star, or just get wasted or be the brooding artist — those dynamics are toxic. Casual Sweetheart's dynamic is highly functional, something rare for a band. And we all like each other; that helps.
Harroun: It's just a very collaborative, nurturing environment.
MT: You have a song called "Secret Cult," with this melodically recited list of celebrity Scientologists …
Harroun: I think a lot about art. I studied art history in school and I work in the art museum at U-M, so I'm always thinking about ideas and philosophies in art. I was thinking about Beck and Scientology and how his grandfather was part of the Fluxus art movement and how the ideologies from both of those movements are in complete contrast to each other.
MT: Talking about movements, the riot grrl movement has its own ideologies as well, started in the '90s, primarily focused around feminism. Beyond the online group, Erin, how much does feminism play a role in Casual Sweetheart's songs?
Norris: Growing up, my mom's a feminist, so I never knew you could choose to not be one. I figured: You're a woman, you're a feminist, right? You're already for the idea that women should be treated as equal human beings. I realize, now, not everyone thinks that way. I always felt there was no question. But, my viewpoint … I've never played in a band with men; I only know what it's like to play with women …
Kozlowski: Coming up in the wake of riot grrl, the politics are very important to me, and I definitely see myself as following in that tradition. The songs and lyrics I write reflect the things I think about all the time, the things I work on in school and teach my students. Working for social justice through music, activism or academic work are all different sides of the same coin. We need all of it to eliminate injustices.
MT: The close-minded, knee-jerk presumption is that the music has an agenda …
Harroun: If any songs, lyrically, have feminist tones it's because we're women, it's not about being feminist or trying to push an agenda. We're all women, we live in this world and so by default we have similar experiences.
Kozlowski: But since we each believe in feminist principles, there's no judging each other by some standard about what a band should or shouldn't be.
Norris: If you take anything away from Casual Sweetheart, I hope it'd be to look at three women in their 30s making music and ask yourself: Where are the other all-women bands and why aren't there more? That's the undertone: You can do this! And there should be more supportive environments going on.
MT: What about musical influences?
Harroun: I think I'm most inspired by musicians I know, people who play in bands, locally. Chit Chat and Rebel Kind are two of my favorites. I love people who are pushing boundaries, creatively. Shelley Salant, also, is like the bridge from Ann Arbor to Detroit, she's so creative, so passionate, so positive.
Kozlowski: I grew up on Nirvana and Hole. The Velvet Underground's always been a massive influence, especially Moe Tucker's drumming. Royal Trux, their particular amalgamation of rock and noise changed the way I understand music. Yoko Ono is a musical, cultural and political hero for me.
Norris: Lately, I've found I love heavier stuff — Shellac, Jesus Lizard. The longer I play, the more I find female bands…
Casual Sweetheart plays with Illy Mack (for their cassette release show) and Pretty Ghouls on Saturday, March 22, at Nancy Whiskey's Detroit, 2644 Harrison St., Detroit; 313-962-4247; no cover.