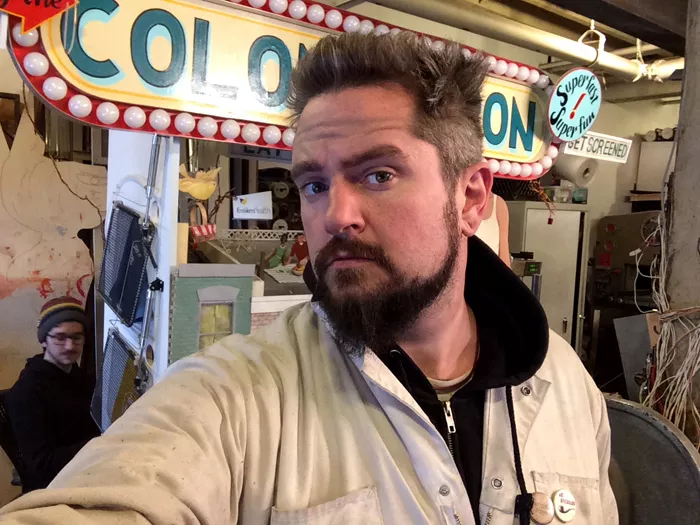 Ryan C. Doyle, 34, is a visual artist living in Detroit's Banglatown neighborhood north of Hamtramck. Originally from Minnesota's Twin Cities, he's galloped all over the globe creating art and fabricating metal for a living. He's the guy behind "Gon Kirin," a 77-foot-long fire-breathing dragon made out of scavenged and found materials. In 2011, he grew attached to Detroit when he collaborated on an "art house" on Moran Street, eventually buying a home across the street that's a little less freewheeling, to provide a sanctuary for his two children and his wife, Canadian performance artist Zarah Ackerman.
Metro Times: I think you kind of fit this profile of "artist coming to the city," living this scrappy existence in an economically marginalized neighborhood. What has your experience been like?
Ryan Doyle: I'm coming from the point of view of being included in the New York and also the Oakland art scene, so the development and, unfortunately, the gentrification that's happened in both of those places has created a situation where it just wasn't economically feasible to do what I wanted to do. In some respects, you can make more money in those cities than in Detroit, but you also spend a lot more trying to do it. So I think the biggest, inspiring thing about Detroit for me was, for one, the cost of living, and also the immediately warm and courteous manner in which Detroiters deal with each other on the day-to-day. A lot of people in New York, Oakland and L.A. aren't going to hold the door open for you when you walk into a store. They're not going to say hello. There are just so many people around that I think it weighs down on their day-to-day courtesy. So, that was a giant factor in me wanting to move to Detroit. Then there's the type of work that I do. I have to be able to do a lot of traveling, and Detroit is a pretty central location to be shipping out large sculptures to different events around the country. Then the fact that the police department is so scarce, um, made me feel a lot more welcome [laughs] doing large, dangerous, cutting-edge robotics and pyrotechnics and that kind of thing. The first couple I met really helped as kind of a welcoming wagon and helped introduce me to local groups that were already pretty successful, like Theatre Bizarre and Ape Technology and eventually to the recycling center where I was offered a residency.
MT: What are the best practices for moving into the city?
Doyle: Well, what I decided was that, for the first two years, I wasn't going to try for any local grants. I figured it wouldn't be a good thing to just show up and stick my hand out right away and start competing with people who have been here for a long time. Instead, I've spent that time feeling out the scene in Detroit. I wanted to get a good feel of what was going on here before I tried to do anything like that. I still feel like an outsider, but I've wanted to give myself some time to not feel like an outsider. And it really wasn't about specific people that I didn't want to piss off. I guess I felt like I could have that opportunity to continue to bring money in and help Detroit, and that seemed a lot more interesting to me.
MT: Now, I know when you got here, you spent some time collecting artifacts from buildings in Detroit, which can be controversial. What are the best practices for, well, let's call it urban archaeology?
Doyle: That's a great question. I think my outlook at the beginning was definitely to explore and to collect artifacts that didn't have monetary value. The first project that I worked on where we did that was with Powerhouse, and we went out and collected parts of houses that were burnt-out in and around Detroit, mostly in Hamtramck but kind of all over Detroit. We went to buildings that already had large sections burned, ones we felt people had already given up on what was left there. You know, we stayed away from anywhere that looked like people were still keeping an eye on it, taking care of it, like it was being maintained. We never cut any locks when we go out and we aren't interested in going out and stealing things, just to help save things that are forgotten — or at least seem totally forgotten — that were just left alone to be rotting away with either doors or windows wide open and missing. I don't think we ever wanted to take things and sell them directly. We were only interested in collecting art supplies and trying to include the story of these forgotten objects into our art pieces.
MT: It sounds like there's a real affection driving that.
Doyle: Yeah. As far as going into buildings, the controversial part for me are these buildings that are still viable until the scrappers come in and start stealing the metal windows or cutting out I-beams. It may be nothing to the scrappers, but these buildings get to a certain point where they're unfixable before they could be rebuilt.
MT: Just to change the subject a bit, when you first came to town, it was part of a project that was larger than you, but in many ways you became the steward of the property on Moran Street, which was an art house. It had a number of unusual things attached to it. The tree out front was turned into a sculpture. The house turned into a hostel of sorts, maybe a bit of a party house. But now you now you have two children and your wife, and you're making your home across the street. Has the whole experience changed you a little bit?
Doyle: Yeah, I've tried to be a sort of steward for community in Detroit. It was very tough and a lot of the artists that came were so overwhelmed by the freedom that they found in Detroit and they were inspired by it, but, yes, it did create an ongoing party atmosphere. And, I think that is totally great and relevant. I never really had a problem with that. What I had a problem with was my life opened up to multiple people per week and, yes, eventually felt somewhat taken advantage of and dissatisfied. So, I needed a door that I could lock so people weren't waking the kids up in the middle of the night coming home from the bar, etc. We've had a really good relationship with our neighbors. There are some Polish families, it's black, it's Bangladeshi and the people that are involved in the community there have been very, very supportive of us being there. We have probably partied too late a few times and rubbed people the wrong way once in a while, but, as a whole, I think people still appreciate that it's artists there. Maybe we're a bit weird, but we're not the crack and heroin dealers that were there in years before. I hope to continue the house across the street as my residence for the next couple years and then start renting that out as less of a party house and more of like an artists residency, more of a calmer, more stable place.
MT: Are there success stories of artists moving onto that street and bonding with the long-term residents?
Doyle: Sure! I don't know how "Hollywood" the success stories really are, but there's little things every day. Some of the guys living there now are shoveling off the sidewalk on the entire block, if people are not able to shovel their own sidewalks. We have some older couples living there. So, we try to help that scene out. Also, mowing the lawns of the abandoned houses on the block. Recently, there was a house fire on our block that there was a family living there. So, we do have a new property that has become derelict and we're planning, this summer, to start taking it apart and converting it into more of a community space.
MT: Is there anything else you'd add?
Doyle: People coming in should spend some time in Detroit figuring out what's going on before they come in and try to start up their own giant group or project or start coming in with this … you know, I hate to hear people say, "Artists are coming in to save Detroit." I'm glad that people think that's what may happen. I encourage people to do things that are positive for Detroit, but I don't think that Detroit needs to get saved. Detroit has a large community that is already very active, and it's just about finding your place to fit into that scene in the beginning before you come in and implement your grandiose plan.
MT: That's what a lot of people I've interviewed have pretty much said.
Doyle: I'd also add that Detroit is still the wild, wild Midwest, and you have to keep an eye out for yourself and keep an eye on your stuff. It's just like living in any other city, in that respect. There are people that are up to no good and if you're looking for trouble, you'll find it pretty quickly. Also, I'd remind people that Detroit has this incredible reputation. I mean, it's probably the worst in the rest of Michigan and then, once you get out of the state, people are like, "Oh, I heard things are improving there." So, you get all these views from people on what's going on in Detroit.