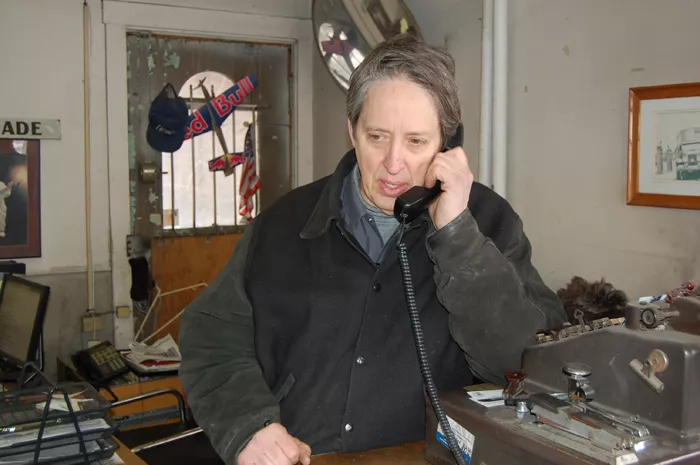 On the west side of Detroit, just past a little bend in McGraw, a building comes into view with the fading word TIRES on its side. Inside the ancient lobby sits a virtual museum of Detroit history: rows of old boxes of Purolator oil filters, an autographed photo of Soupy Sales, period advertisements, a Studebaker hubcap, old family photos, and a 3-foot-tall plaster figurine of a boy holding a tire, the tire long gone. Even the tin ceiling itself is salvaged from Corktown in the 1920s, now on its second building. There are no computers, no monitors, no debit machines, just two well-worn desks and a door that leads out to the garage, where air wrenches whine.

This is Warholak Tire Service, and brothers Paul and Michael Warholak are serving their customers one at a time, unafraid to do a little scolding or teasing. Now the two discuss a customer's bent tire and say the unthinkable in a tire shop: He doesn't need new tires; he needs suspension work.

"I'm taking it to the mechanic today," the customer agrees.

Paul jokes that it isn't unusual to turn away business, "'Cause eventually he's gonna end up buying tires and wheels from us …"

"Forever!" the customer interjects.

The customer, 31-year-old Daniel Budimir of Canton, complains that the problem is that he lives so damn far away from the shop.

Paul begins admonishing him: "Do you travel a long distance to get a pizza or go to a favorite bar?"

Budimir takes it with a smile, and has nothing but praise for the Warholak brothers. He used to live in southwest Detroit and east Dearborn, and today he's driven 30 miles for expert tire service he can't find elsewhere.

"I've went to a million tire places," he says, "and I've never seen anybody that knows more than these guys. They're like … artists of this or something."

If Budimir and hundreds of other customers would rather come to Warholak first — and accept the brothers' ribbing with such aplomb — it's because the family-owned business has a reputation for steering customers right. That mixture of decency and drollery is what's kept the tire salon open and in the family for an astonishing 82 years.

Michael laughs about their workplace antics. "Yeah, we're like Heckyll and Jeckyll," he says. "We have our moments. I think it's the fact that it's a family business, and, you know, when you're together with family you sort of knock and whale on each other from time to time, and it's not the same as a staid, ordinary business, it's more loose-knit."

Loose-knit as in customers who tell them, "I got a flat tire," might hear the reply, "What the hell did you do that for?"

Michael laughs on the topic of giving customers the business. "That's the fun part of my job," he says.
Then he explains, "If you just nod your head and say, 'What can I do for you?' customers don't tend to interact with you like they do when you throw them off balance a little bit. It's nothing more than just trying to get to know them."

As they see it, anything that helps break the ice is vital to a service business.

"The hardest thing to do," Michael explains, "is to overcome that initial apprehension and mistrust, because, frankly, people in my line of business aren't all that trustworthy. If somebody comes into my place for the first time, I try to make a point of listening to what they're saying. And I try to lighten it up a little bit so they can see I'm human and I'm not just some guy there to take their money. Being a family business helps. I think people come in expecting a little more personal attention."

Their business philosophy means they don't always do what the customer wants, but what they feel is right for the customer. "It doesn't take much," Michael says, "just asking some questions and listening to what the customer says.

"Let them talk. Let them tell you what they want. If you find out what they're driving, what their driving style is, how many miles they have on the car, you can get a good general idea what they need. Sometimes they'll come in wanting to put expensive tires on their car, and they have 250,000 miles on it. Do you really want to spend that kind of money on a car that probably has a multitude of other issues with it? Maybe you need to get your shocks and struts together, get your alignment done, and then come back and we'll put some tires on it."

Turning away business? The Warholaks sometimes do it. Michael gets a little worked up talking about it, saying, "It'd be so easy to rip people off! It'd be so freakin' easy, and sometimes I wonder why I'm busting my balls when I could rip people off left and right if I wanted to and walk away with a stack of cash. Back in the day of the spinners, you know, the guys had the 20-inch wheels with the spinners? I never sold a set. I'd tell them, 'This is stupid. You're going to regret doing this.' And I lost probably $100,000 in business because I wouldn't sell that stuff — because it was stupid. And they'd do somewhere else and buy it. And, you know, when was the last time you saw a truck go by with spinners on it? You don't see it anymore, and you know why? Because it was stupid — that's why."

But Michael doesn't want to be patted on the back for doing what he should. He's just running his business the same way shop owners ran things in his Detroit neighborhood when he was a boy. It's something he enjoys talking about.

He says, "I think there's an entire generation, in their mid-30s and late-20s, has grown up in an era when service wasn't a consideration. Everything was a commodity. They didn't experience a world where you had a pharmacist on the corner who knew your name and knew your family. Or a butcher who knew what sort of cut your family liked. These were service industries. I think young people are starting to appreciate service again, and I think that's reflected in the type of businesses that are growing in Detroit right now: Little coffee shops, small restaurants, butcher shops, stores, brewpubs, where detailed individual service is important."
Warholak Tire Service is at 9411 McGraw St., Detroit; 313-582-5544.