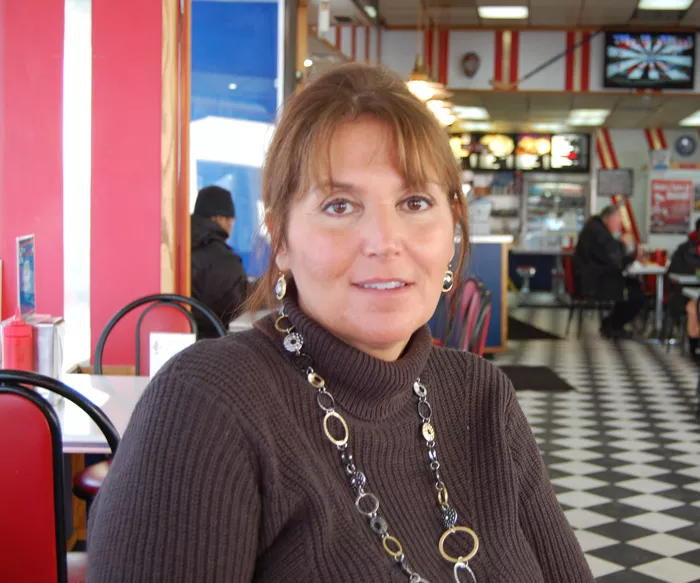 We blew it. A few weeks ago, when we were writing our bucket list of the 100 things every Detroiter should do, we incorrectly stated that Lafayette Coney Island was founded in 1917, and that American Coney Island was the younger one, founded in 1924. American owner Grace Keros got on the horn and gave us an earful. No doubt about it, we got our facts wrong, and we took the lecture with grace and many apologies. When we met up with her later at American Coney Island, though, we realized that Keros always speaks with a certain intensity that could be mistaken for a harangue. She's an old-fashioned business owner and no-nonsense Detroiter who shot out the establishment's history at us like a machine gun in the time it took to eat a plate of fries and down a coney with a knife and fork — which we now realize Keros regards as bizarre.
Metro Times: Can you tell me about the history of the places?
Grace Keros: So, my grandfather came over in 1917, from Greece, Ellis Island, the whole deal. Got there, no jobs. He heard there were jobs in Detroit. He got to Detroit, but found no jobs. On this corner where we're sitting right now, he started a little pushcart, selling hot dogs and popcorn, shining shoes and cleaning hats, all those at the same time, just on this little corner. He made a little money, and then he bought this store, and — boom — he started American Coney Island: family-recipe chili, hot dogs, all of that good stuff. He worked for years. You know how Greek people work! He made some money, and as soon as he made extra money, he brought his brother over in 1924. So, we got 1917, for American Coney Island and 1924, he brings his brother over. His brother learns the business here. Then, his brother went next door, that space became available, and he opened up Lafayette Coney Island. Completely different chili, completely different hot dog.
MT: You make your own chili.
Keros: I own the chili company. It's Detroit Chili Company. My brother is my partner, Chris, and he just got into the business a few years ago. That is our recipe. My grandpa, my dad and just us know the little secret to it, that's it. We have our plant, it's out there by City Airport, and we do our chili and that just goes to us, so that's that. We use a Dearborn Sausage hot dog, obviously. That's another proprietary blend that they make just for us.
MT: So the two Coney Islands are different, but people get them mixed up.
Keros: Now, I mean, people want to think one thing or say another and whatever. In the last 10 to 15 years, people have finally figured it out, because the facts have come out. Whether it be on the Food Network, the Travel Channel. It's black and white, you know? But there are still a few people who don't get it or read between the lines or just don't pay attention. There are some people who think that I own both. NOT! Lafayette is not family-owned anymore.
MT: I trust that, even though there is a rivalry between the two Coney Islands, it's friendly.
Keros: Is there a rivalry? I mean, to me, there isn't. I don't pay attention that they're even there. I couldn't care less, because I know we have the better product. I always did, and it's been proven time and time again by television shows, and even beyond that, because then you're going to say, "Well, you need those people to tell you that?" No! I see it from the everyday customer. I know what we serve. We have the perfect coney dog. So, to me, no. I don't really care what they do. I don't care how they do it. I just worry about my business. Now, does it give the city of Detroit that little something where, "Yeah, it's the two places right next door to each other?" Yeah, it's got some kind of character to it and that's cool. But, as in friendly, it depends, it depends.
MT: I mean collegial, at least. I imagine.
Keros: It depends. Again, it depends on who I'm talking to and who did something wrong to annoy me or whatever. Like I said, I don't pay attention to them.
MT: So that side of the Keros family sold Lafayette, but American is still …
Keros: Well, I kind of skipped it, but there was my grandfather running American Coney Island. Then, as the years went by, my dad stepped in and took over the business and took it to the next level. Then, 25 years ago, I stepped in, so I'm a third-generation owner. And then a couple of years ago, my brother came into the picture when Vegas came knockin', and that we were going to open up in Vegas.
MT: I don't know anything about Vegas. What is that?
Keros: We opened American Coney Island at the D Hotel in Las Vegas.
MT: Is that so?
Keros: Yeah. What? Don't you guys do any kinda research over there? What is wrong with you people?
MT: I'll be the first to admit it when I blow it.
Keros: Hey, listen, stuff happens but it just gets annoying! So, that's why when I called you I was annoyed … pissed. It's like, if you're going to write something, get it right.
MT: Right.
Keros: Or, don't write anything at all. Because, it was such a beautiful piece that you did.
MT: Yeah … oh, thank you!
Keros: Oh no, it was. It really was.
MT: I'm glad … I'm kinda glad I got it wrong or I wouldn't be down here.
Keros: There you go. You wouldn't have met me!
MT: Do you have any opinion on what the proper way to eat a coney is?
Keros: Chili and mustard, onions. I mean, that's the proper way.
MT: No, I mean, do you—
Keros: [interrupts] Use your hands.
MT: Do you crush it?
Keros: The more napkins you use, the better the coney. I can't take credit for that. My brother came up with that one, actually.
MT: So, these are three-napkin coney dogs?
Keros: Oh, a little more than that, probably.
MT: What do you think about those who prefer to attack it with a fork and knife?
Keros: To each his own. They're a little strange, but it's alright. It's like when people ask us for ketchup to put on a coney.
MT: I can't believe it.
Keros: It's against the law. You can't do that. You can't put ketchup on a coney.
MT: The ketchup here is strictly for the fries, right?
Keros: Absolutely! That's the only reason ketchup ever came into this store. We look at them a little odd when they come in here. Kinda don't want to serve 'em if they put ketchup on it, but it's alright, we do.
MT: Do you have any celebrations planned for 2017?
Keros: Absolutely! We just had one for our 95th, which was amazing. We dropped 955 hot dogs out of the sky, out of a helicopter. It went global. When we do things, we go big or go home. I don't just do little things here. So, we teamed up with the radio station 95.5 and had 95-cent coneys. So, yeah. We're going to have something cool for the 100th.
MT: What? Where did you drop the hot dogs?
Keros: Over in Dearborn, over a football field. We dropped the hot dogs and, because you don't want to throw food out, donated the hot dogs to Detroit Dog Rescue.
MT: It seems to me up until about five or 10 years ago, when you would look at regional hot dogs, the coney dog just didn't get a lot of respect.
Keros: I don't think they were paying attention to Detroit is what I think was going on. But now, everyone wants to be on the bandwagon and be part of Detroit or have something to do with Detroit and let me tell ya, us here, American Coney Island had a big part in getting this stuff on the map. All these nationally syndicated TV shows have come to us; we've been on so many things, you know?
MT: Yeah, and now you're in the center of a place that's increasingly in the spotlight.
Keros: I'm still here. I'll never leave. Detroit's great. We've seen good times and we've seen bad times — and good time and bad times. But it's all good. I think it's a great place. I would never relocate this place from here. I love it.
MT: Your "piece of the pie" is paying off.
Keros: Hard work pays off too. Hard work and not just sitting stagnant, waiting for something to happen or waiting for something to come to you. You gotta make things happen. You gotta make sure the business is out there. You know, there's so many people who can sit and complain and complain and complain. Get out there and do something, you know? I haven't slept in years and I love it and I wouldn't have it any different. Every day is something new. Every day is something fun and I love it. I love it. I love the craziness of it, of the city, of the business, of everything. You just gotta be tough and have a good stomach for it and keep goin'. Don't take no for an answer and don't let anyone get in your way, which I don't.