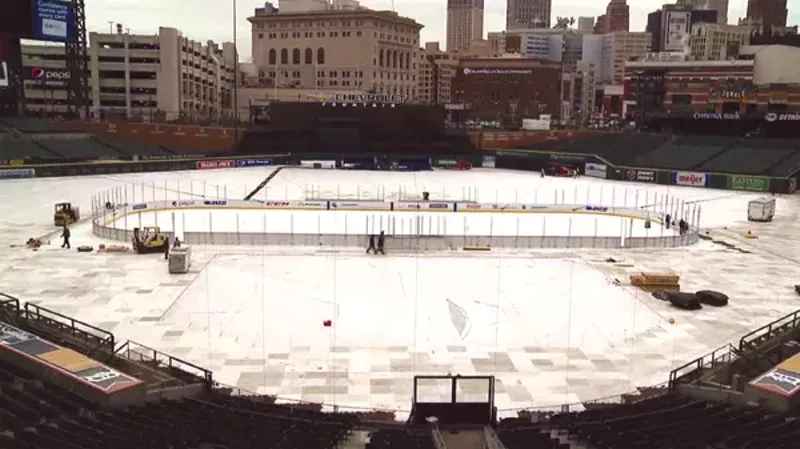 Last night, as I was driving south on Woodward Avenue through Highland Park, there was an eerie, heavenly glow hovering near downtown. Bigger than the searchlights used to beckon patrons to strip clubs and haunted houses, way brighter than the world's biggest big box parking lot.
I kept driving past where I was originally headed and made it to the epicenter of Foxtown. There it lay … Comerica Park, all aglow. "All this for an alumni hockey game," I mumbled aloud. All of this for an alumni hockey game, indeed.
For the NHL, finding something that works and is marketable happens about as often as the Florida Panthers making the Stanley Cup finals. If you're doing the math at home, that's about once every 20 years. This league has some of the most talented athletes in the world and yet it has no idea what to do with them.
Enter the Winter Classic.
Since its inception, the Winter Classic has been a shining beacon in the night. Something that has pulled non-hockey fans to the game we know and love, and exposed them to all the things that make it so great. It's shown that hockey players aren't just dopes on skates that say, "Let's go, boys!" They have unique personalities, class and supreme skills.
In typical NHL fashion, Gary Bettman has already set about exploiting the Winter Classic formula by creating the Stadium Series and Heritage Classic. This means more games outdoors every NHL season. I'm not against this type of duplication, but it could potentially draw some new viewers away from the Detroit Red Wings-Toronto Maple Leafs game.
"Watch an outdoor hockey game or a college bowl game," says Joe Blow. "Oh, there's another outdoor hockey game in March, I'll just watch it then." That's how easy it is to lose the common tier hockey fan.
However, if the NHL continues moving the way of the outdoor game, there's a way to make each game more of an exclusive ticket. Build smaller outdoor stadiums where teams play half their home games.
Imagine it … the Detroit Red Wings forgo their building a monolithic new arena that costs taxpayers tons of cash, instead reinvesting that money into fixing the Joe and use some of the leftover funds to build a smaller outdoor rink with 10,000 seats. They set up shop in a different part of town (Oh, I don't know, Tiger Stadium), which brings in new businesses and helps older ones prosper.
This smaller stadium idea brings a bit of exclusivity back to the outdoor game. Not everyone can get in because of the rink's size, but it pushes demand to see the team up, which potentially means better attendance at the Joe. In addition, the other 10,000 fans who would typically come to a game potentially go downtown just to be a part of the atmosphere.
Pipe dream? Pretty much, but I feel this idea has potential. When the Wings aren't playing, the arena can host amateur hockey games of all levels, hockey clinics and even become the practice home for visiting NHL teams.
Hell, if the number of pictures of people skating at Comerica Park on my Instagram feed is any indication, they could literally build an arena on the back of an open skate program alone.
The takeaway from all this (for any NHL team owners or Gary Bettmans reading this), is that hockey is a beautiful game, rich with tradition. Finding a way to honor those old traditions, like playing on the pond or on an outdoor rink, has been truly unique.
Now it's time to make it grow — in a prosperous way — for the game. Come up with an ideal that propels it year-round and reminds us constantly why we love hockey so much. Don't just push it to its limits and watch it grow stale. Please don't let it become the new "glow puck."