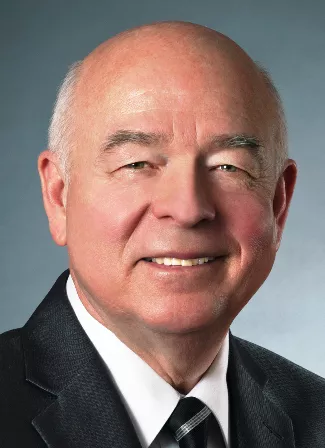 Last week brought terrible news for transportation in our battered region — and virtually everyone missed the story.

Ironically, this came just as we were all being deluged with all the feel-good coverage of the North American International Auto Show. Yes, there's a spiffy new Corvette. Yes, the testosterone just slams through my spongy tissue every time I think about that redesigned Ford pickup truck. Plus, we got to see lots of beautiful people in stunning clothes, getting their pictures in the media at the charity preview.

Tres charmant, as we always said back in Hazel Park. However, there are a lot of people who don't have and can't afford even old and worn-out cars and trucks.

We are also the only one of the top 30 major metropolitan areas in this country that has no public transportation in any form running downtown from the major municipal airport. John Hertel, the general manager of SMART, the suburban bus system, told me that last winter. Hertel, who also used to run the sadly extinct Michigan State Fair, has been fascinated by public transportation since April 1956.

He was 9 then, and his parents took him for a ride on one of Detroit's streetcars the last day they were in service.

Last year at this time, things were looking better for the possibility of a real mass transit system in this area than ever before. Gov. Rick Snyder had leaned on the legislature to pass legislation creating a Rapid Transit Authority in four counties — Wayne, Oakland, Macomb and Washtenaw.

The idea was to establish a network of fast buses that would zip passengers all around the area and out to the airport. These aren't buses the way we commonly think of them.

They look more like railroad train cars. They would have their own special lanes with accelerated traffic signals, and would be carefully coordinated to connect with both the city and suburban transportation systems.

That would do wonders to make things work better, and make Michigan work better from an economic standpoint.

There seemed to be just one sticking point, however: voter approval. For this to actually be built, voters in all four counties would have to approve a millage to pay for it. From the start, it was clear to me the man for the job was John Hertel.

He is an experienced, longtime player in the state political arena. He served three terms in the state Senate, and managed at different times to be chair of both the Wayne and Oakland county boards of commissioners.

A Democrat from largely blue-collar Macomb, he has shown a rare knack for working with Republican governors.

Five months ago, I was happy to hear that he had been named the first CEO of the Regional Transit Authority for Southeastern Michigan.

My guess was that Hertel would hire some experts, form a strategy, and try to get millage proposals on the ballot this year, in two years, when turnout will be much larger, or maybe both.
Then, nothing happened — until last week, buried in the papers, was the shocking story that Hertel was leaving the RTA.

Instead, it turns out he never resigned from SMART — and had decided to stay there. The statement he released indicated he was concerned about getting the suburban bus system's millage renewed this summer, "and its importance in continuing SMART's mission of getting people to work, school medical appointments and other destinations."

This was dismaying to anyone who wants this area to thrive, and who knows we need some form of mass transit.

Dismaying and puzzling. Over the years, I've never seen a practical, competent, real-world politician as committed to public transportation as Hertel. He's told me stories about how his grandmother used to take the old interurban to Port Huron.

What happened? Clearly, he wasn't forced out. Paul Hillegonds, the chair of the RTA board, was clearly disappointed he was leaving. So I nosed around a bit.

Turns out the state never followed through and made money available for him to hire a staff at RTA. We aren't talking about secretaries and clerical workers. Hertel needed some transportation experts to come up with a workable plan.

You don't design a 110-mile system with special lanes and 23 stops on the back of a legal pad, or with a Microsoft Office spreadsheet. You need to hire professionals, and be able to assure them they will have a job for a while.

Last summer, when we briefly talked about this, Hertel told me his guess was he needed $2 million to $3 million to do that.

That may sound like a lot — but in state budget terms, it's chicken feed. You can't even slap a good-sized addition onto a high school for that amount of money.

Last November, Hertel told The Oakland Press he was working for the RTA, but hadn't signed a contract and wasn't taking a paycheck because he couldn't hire a staff. State Sen. Roger Kahn (R-Saginaw), chair of that body's appropriations committee, agreed he needed that money. Indeed, it was put into some supplemental bill, which got loaded up with other stuff … and then never passed. No wonder John Hertel quit.

Here's why his leaving is so devastating: Nobody else has the clout or the know-how to get this done and get the politicians and voters in four different counties to approve it.
I wouldn't bet my battered old station wagon that even Hertel could certainly get that done, but I don't see anyone else who can. The county executives know and trust him. He knows the political and transportation turf.

He's the guy who, behind the scenes, put together the largely private-sector effort that was supposed to result in the M-1 rail project, which will extend up Woodward 3.3 miles from the People Mover, if it's ever actually built.

Make no mistake about this: This is our one shot at some form of practical, realistic mass transportation in our lifetimes.

Yes, subways are nice. But they aren't going to happen; building one would take decades and cost at least $1 billion a mile, and nobody has the money for that. We could build the RTA system in a few years for a few hundred million, and the federal government would match whatever we spend.

For years, Michigan tax dollars have gone to fund mass-transit systems all across the country. We've turned our backs on hundreds of millions because we couldn't get our acts together. This may be our last chance.

Gov. Snyder ought to do what he did with the new Detroit River bridge — find a creative way around this problem. Come up with a few million, even if he has to lean on the NERD fund donors for it, and give it to the RTA on the condition that Hertel come back, and commit to three to five years at the helm.

This is one project everyone needs. People like me would take RTA buses to and from the airport any time we could. But more importantly, there are employers in the suburbs who would hire Detroiters, if they had a reliable way to get there.

Everybody should be pushing hard to make this happen. Anyone, that is, who wants Detroit to have a future.