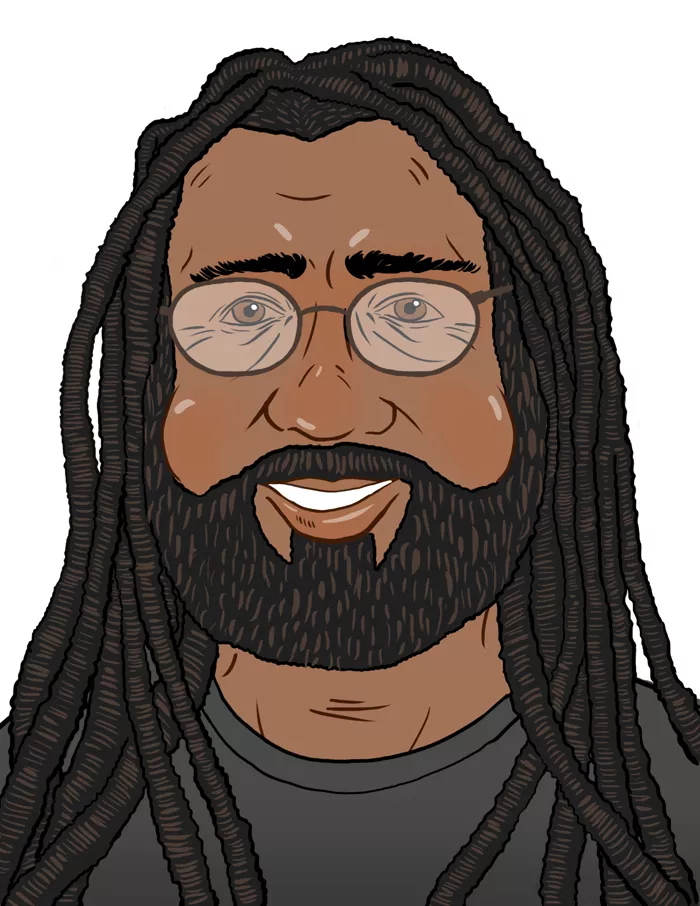 "I like smoking weed," said the guy wearing a bright, multicolored jacket with Batman's nemesis "The Joker" on it. "Is that a bad thing?"
Not at the 43rd Ann Arbor Hash Bash, where marijuana was inhaled freely by the crowd estimated to be 8,000 strong under the sunny skies of a spring day. Guitarist Laith Al-Saadi opened up proceedings with a solo Jimi Hendrix-inspired version of the "Star Spangled Banner."
That opened up the official proceedings. Unofficially, folks had been toking, vaporizing, and consuming brownies, cookies and other edibles for quite some time. Toward the back and the edges of the crowd, getting high was the main activity. That's pretty much what they were doing up front too, except those folks were paying attention to what was being said from the steps of the library. The folks in back didn't have a chance. The drum circle, which had been banging away since before I showed up early, never even flinched in recognition of the program.
I approached a guy off to the side wearing a T-shirt that read "Grow Your Own." When I requested a little interview he agreed, but said, "Let me finish chewing my brownie here."
His reason for being at the Hash Bash: "To support the cause of trying to get this plant and this medicine legalized. To revolutionize how people think about it nowadays and maybe erase some of the lies that have been told in society and to support my mother and Don, they're both medical patients."
Mom and Don were at his side. Mom said, "There are very, very healing properties to it."
Don, who wore a hat that read "Kush Keeps Us So High," said, "I agree with whatever they said."
Regarding growing his own pot, the grow-your-own guy said, "It hasn't been very easy. I'm still tweaking it, and it's taken over a year to almost get it where I have it right."
Some folks were setting large soap bubbles afloat in the air. One guy carried a sign that read, "Marijuana is safer than peanuts." Two people dressed in costumes resembling marijuana plants didn't want to talk to me. A couple of uniformed campus police observed the crowd from the edge. Three young women took a selfie with the crowd as a backdrop.
A woman wearing sunglasses was sitting on a guy's shoulders. She was hollering that she loved rock 'n' roll as she gave a double thumbs-up to the crowd. I walked up and pressed my thumbs against her thumbs.
"Wow, that's the first time anyone ever gave my thumbs a high five."
"More like a high thumbs," I said. "How you doing?"
"I'm doing really great."
"Why are you doing great?" I asked.
"Because I'm here for the Canada festival. I'm color-blind. I just walked in and noticed the Canadian flag was up here, and I think Montreal is really pretty."
She was referring to the green flag with a green marijuana leaf where the red maple leaf would be on the Canadian flag.
"Are you high up there?" I inquired.
"I'm so high up here. I've never been this high up before. Usually, I'm 4-11, but now I'm feeling like 8-foot-5."
"Why do you come to the hash bash?"
"Wait, this is the hash bash? Does Canada make really good hash browns?"
"They probably do," I answered. Hey, I thought I was asking the questions.
"Oh, yeah, they do have a lot of potatoes there, and a lot of tomatoes. You can make a lot of ketchup for your Hash Bash from Canada. Thumbs up for Canada, everybody, and rock 'n' roll!"
Get a crowd together and there's bound to be a Canada booster in it. I spotted a guy with a T-shirt that read "Keep Calm, Smoke Weed."
This was a pretty calm crowd. I sat down next to a guy who was selling locally produced organic vegetable seeds. He was so busy selling seeds I gave up waiting to have a word with him. I saw a couple of folks wandering around barefoot. It was a relatively warm day but not even close enough for me to consider going without shoes. Several people had dogs on leashes. There was one Great Dane that looked big enough to throw a saddle on.
When Chuck Ream spoke, he noted that he had been smoking marijuana for 47 years, stating that, "If there were something wrong with it I would have noticed."
Then there was a Twitter moment when folks in the crowd were asked to take a photo of the event and tweet it to @hashbash. Maybe Twitter copped a buzz at that moment.
I approached a guy wearing a long khaki-colored military looking coat. He said this was his third Hash Bash and that he liked getting high. On those occasions he liked "to sit down and watch movies, mostly comedies, and order some greasy pizzas."
There was another woman sitting on a guy's shoulders. I spoke to her. I guess I can't resist a woman sitting on a guy's shoulders. She actually volunteered her name, but — why start identifying folks now?
"I'm here currently looking for my friends," she said. "I miss Ann Arbor and this is a pretty nice way to see it, on top of someone's head."
"What brought you back?"
"The people, the art, the condensed and consolidated clouds taking over this entire city."
Al-Saadi came out with his guitar to close the proceedings with a Joe Cocker-inflected version of "A Little Help From My Friends" — emphasizing the line, "I get high with a little help from my friends." He was scheduled to play later for a Hash Bash afterparty at the Blind Pig.
I spoke to him as things were breaking up and many folks headed over to the Monroe Street Fair. He shared a Hash Bash memory with me:
"The first time that I came down here — 23 years ago — was one of the best experiences of my teenage years. I had just started to play guitar and I came down here, having grown up in Ann Arbor. This is when I was about 13. And I got to go around and play music with people all day on the Diag and meet some great like-minded people that I have maintained relationships with over the years."
It was good enough to keep him coming back.
Serious business: One thing the serious folks on the program talked about was that there will be 12, maybe more, petition initiatives to decriminalize marijuana across Michigan this year: the cities of Saginaw, Port Huron, Utica, East Lansing, Mount Pleasant, Oak Park, Hazel Park, Onaway, Harrison, Clare and Marquette, and in Benzie County. The last time these folks ran multiple initiatives, they won in all five cities. Something close to that would be awesome for Michigan.