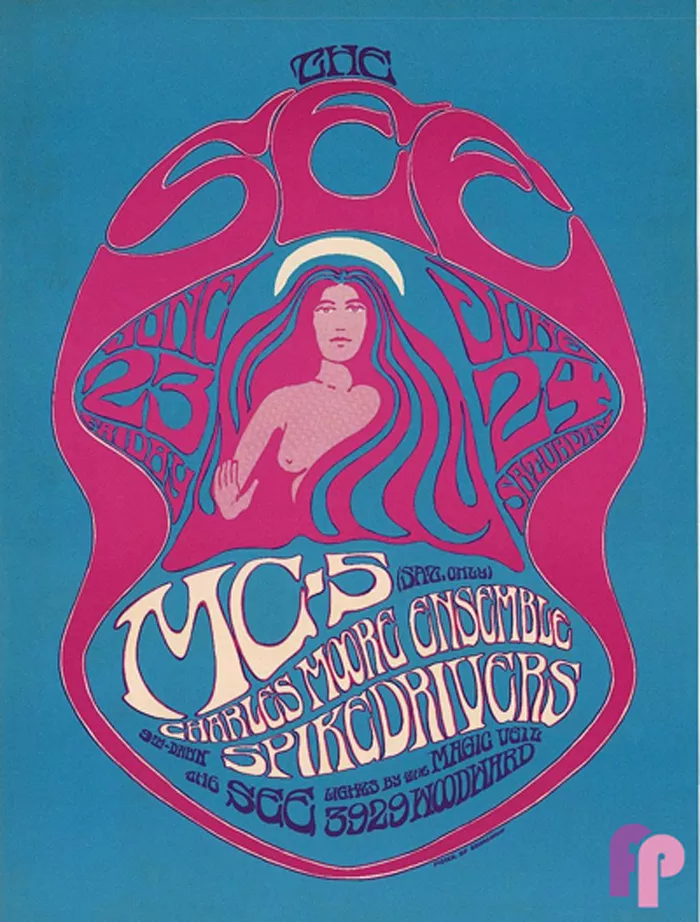 We were saddened to learn that Gary Grimshaw, the poster artist best known for his work during the Grande Ballroom era and former White Panther Minister of Arts, died at noon on Monday, Jan. 13, having suffered with ill health for many years.

Grimshaw's work became synonymous with 1960s Detroit rock 'n' roll and, in the years since, has become highly collectible. When I interviewed him in 2006, Grimshaw told me, "I can't afford to buy my own work."

Gary Grimshaw worked on the cover art for my book, MC5: Sonically Speaking, though his ongoing health problems resulted in him being unable to finish and the piece, which was completed by his longtime friend and Grande Ballroom collaborator Carl Lundgren. Still, Grimshaw's initial concept stood strong, and it's an honor to have his name on my book.

During the research process for that same book in 2006, I sat with Grimshaw in his Detroit basement studio and spoke with him at length about his time with the White Panther Party, his close association with the MC5, and that Grande Ballroom period of 1960s Detroit rock 'n' roll in general. Though he was obviously struggling, even then, he welcomed a writer into his home and was warm if characteristically quiet.

Grimshaw was in the U.S. Navy in the mid-'60s and, during shore leave in San Francisco, he hung out at the Avalon and the Fillmore, paying particularly close attention to the psychedelic posters and light shows. After his discharge in '66, he was able to turn that knowledge into a regular gig at the Grande, designing most of the posters.

In a 2007 Metro Times story about Grimshaw, Michael Jackman wrote, "The posters Grimshaw created were psychedelic and heady, heavily embroidered with bright colors and flowing text. Not only would drug-addled concertgoers get lost in the imagery, Grimshaw would lose himself in the process, burning through jobs the night before a deadline."

Grimshaw said to Jackman, "At night, I get in a trance when I'm working on a piece of art. I lost all sense of time. I look up and five hours have gone by and it feels like five minutes."

He was also, Jackman said, in charge of the lightshow: "He was in charge of a string of strobe lights, slide projectors and overhead projectors, dripping and spraying alcohol, oil, pigment and water into trays, producing otherworldly light effects."

"I'm happy that younger people like where I'm coming from," Grimshaw told Jackman. "When I was young, you were expected to hate anything that wasn't rock 'n' roll."
Fellow poster artist Mark Arminski posted on Facebook, "RIP Gary Grimshaw. A great inspiration to me. A great creative mind. A great human being. You will forever be a presence."
Cult Heroes singer Hiawatha Bailey said, "Everywhere I look my life is graced by Gary Grimshaw, thank you for everything Gary, God Bless."

We want to send out heartfelt best wishes to Gary's wife Laura, his family and friends. He will be missed.
A show of Gary Grimshaw's work continues until Feb. 15 at the Scarab Club, 217 Farnsworth St., Detroit; 313-831-1250.