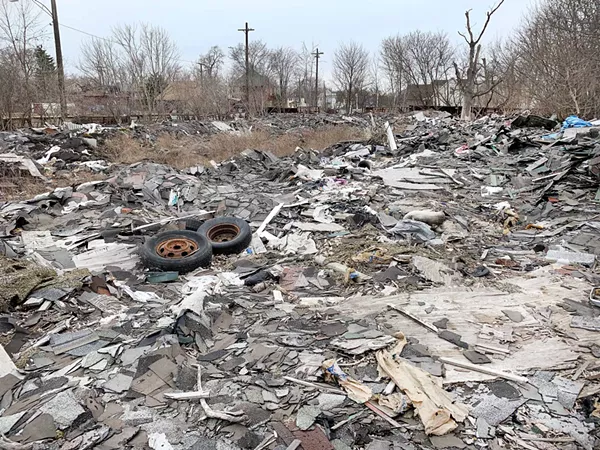 The dump at Oakland Avenue and Lynn Street in Detroit's North End neighborhood stretches for at least 250 feet along a busy residential road. It's roughly 50 feet wide, and is filled with a solid pile of debris that's as much as eight-feet high at some points.
The pile is made of shingles, roofing materials, tires, and other junk that's likely laced with asbestos. Rusty nails and jagged, rusted metal edges protrude from the pile.
The biggest problem with the junkyard, however, is that it isn't supposed to be there. It was illegally built in a residential area by the property owner, whose business operates out of Warren, and the pile sits across the street from a North End elementary school.
Jerry Hebron, a North End resident and owner of the nearby Oakland Avenue Farm, tells
Metro Times
that neighborhood groups have discussed the problem with multiple city officials in recent years, and the city even issued over $10,000 worth of tickets to the absentee property owner.
"It's near a school and businesses, it's environmentally problematic, it's ugly, and it's not something that we want our kids subject to," Hebron said. "It's full of rodents, there could even a body up here for all we know. We have no idea what's in it."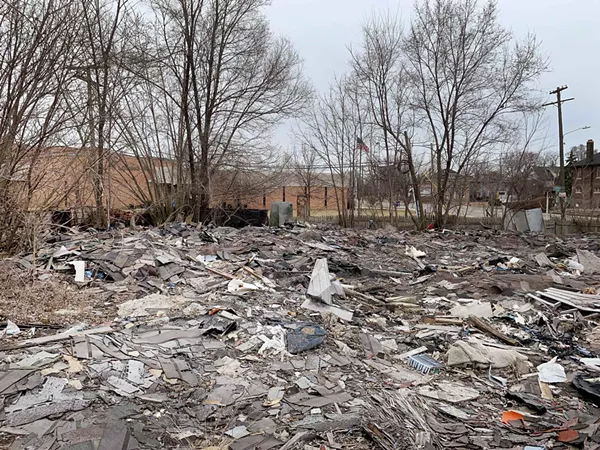 She added that there hasn't been as much dumping since neighbors have started fighting back, but the junk pile remains.
City records
show the property owner is Thomas R. Properties, which lists a business address of 3230 Parent Ave. in Warren. Records show the company's registered to Tomasz Rzedzian. It has been hit with about a dozen blight tickets in recent years, none of which have been paid. Rzedzian couldn't be reached for comment.
When contacted by
Metro Times
about the mess on Thursday afternoon, Mayor Mike Duggan's spokesman, John Roach, says the city would be sending a crew from the department of public works to assess the situation. The city will also likely issue more tickets, Roach says, and the Detroit Police Department is now planning to look into the matter. However, the cleanup process could require action from the city's legal department, Roach adds.
"The city will be assessing the cost of cleaning up the lot likely tomorrow, and we will determine next steps from there," he says.
However, Hebron says she'll only believe the lot is going to be cleared when it happens.
"We were thinking that we would let the city do its thing, but summer is coming, kids are going to be out and about," Hebron says. "We've been at this for a while, we're tired now, and we're not waiting any longer. This stuff has to go."
The issue with the Oakland Avenue dump is the latest in the neighborhood's ongoing battle with illegal dumpers from the suburbs. In August, Hebron caught a man from Sterling Heights' Mystic Touch Carpet Cleaners illegally dumping fluids. She reported him to the media and police, and the man was
hit with a $5,000 ticket
.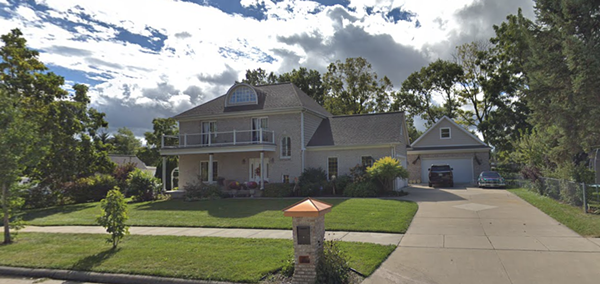 Stay on top of Detroit news and views. Sign up for our weekly issue newsletter delivered each Wednesday.