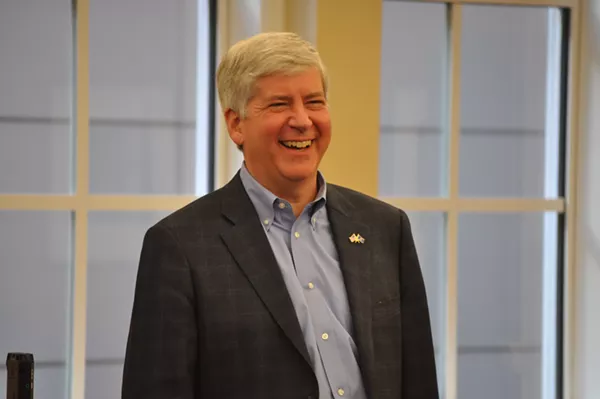 In surprise move on Monday, a federal judge who last year dismissed former governor Rick Snyder as a defendant in Flint residents' and businesses' class action lawsuit reversed that decision.
U.S. District Judge Judith E. Levy agreed to reinstate Snyder as a defendant after considering new evidence presented by the plaintiffs. That means Snyder can be held personally responsible for the crisis.
Flint was run by an emergency manager when it began using Flint River water as its primary drinking source in April 2014. Snyder's Department of Environmental Quality failed to require corrosion control for the pipes, which contaminated the water that killed at least a dozen people and likely sickened thousands more.
The case consists of 12 class action suits consolidated into one large suit in which plaintiffs are claiming personal injury and/or property damage. They're
asking for an independent monitor to ensure state health and environmental departments are complying with court orders. They're also seeking the establishment of a fund for 100,000 people affected by the crisis.
In her 128-page order, Levy wrote:
The Governor acted indifferently to the risk of harm they faced, demonstrating a callous disregard for their right to bodily integrity. This indifference manifested itself in two ways. Initially, the Governor was indifferent because instead of mitigating the risk of harm caused by the contaminated water, he covered it up. In private, he worried about the need to return Flint to DWSD water and the political implications of the crisis. But in public, he denied all knowledge, despite being aware of the developing crisis.

As a result, plaintiffs were lured into a false sense of security. They could have taken protective measures, if only they had known what the Governor knew. Instead, the Governor misled them into assuming that nothing was wrong. Governor Snyder's administration even encouraged them to continue to drink and bathe in the water...

So when plaintiffs state that by February 2015, the governor was fully aware of a public health threat posed by the water supply in Flint, and that by July 2015, at the very latest, the governor knew that the water supply was contaminated, these conclusions are supported by the well-pleaded factual allegations.

It is reasonable to infer that Governor Snyder knew that the residents of Flint faced a substantial risk of serious harm emanating from the water.
Stay on top of Detroit news and views. Sign up for our weekly issue newsletter delivered each Wednesday.