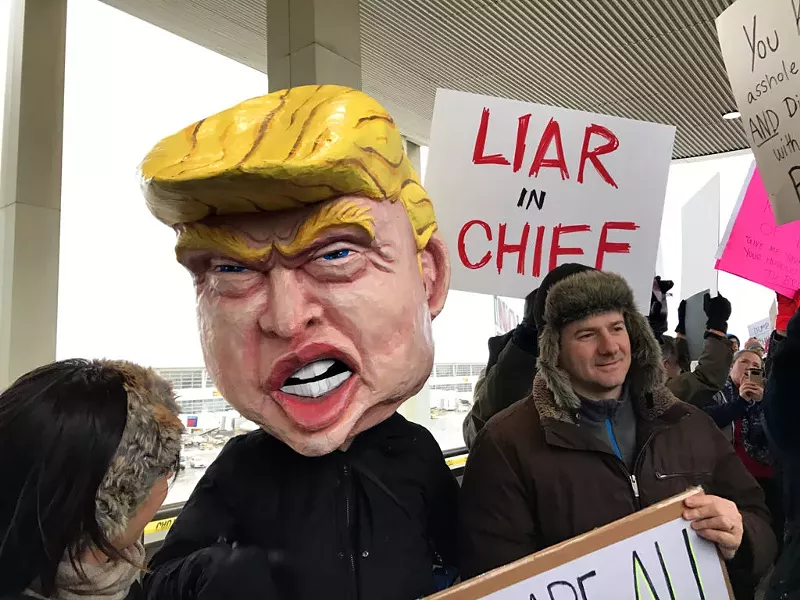 President Trump swooped into Grand Rapids on Thursday and was in true form – derisive, arrogant and full of shit.
In his first rally since Special Counsel Robert Mueller submitted his report on alleged Russian collusion, Trump claimed the auto industry was roaring back, Democrats are executing newborn babies and liberals want to eliminate airplanes and cows.
Sound absurd? Not to the sea of red hats that cheered him on and booed the media and Democrats.
Here are five bullshit claims Trump made in Grand Rapids:
1. "The Democrats are now advancing an extreme $100 trillion government takeover called the Green New Deal. But I'd rather not talk about it tonight because I don't want to talk them out of it too soon because I love campaigning against the Green New Deal. … I want them to make that a big part of their platform — no more airplanes, no more cows, one car per family. One car!"
No one is suggesting eliminating airplanes, cows or cars. The Green New Deal is an aspirational resolution to address the terrifying consequences of climate change.
2. "I support the Great Lakes. Always have. They're beautiful. They're big. Very deep. Record deep."

Just a month ago, Trump proposed cutting Great Lakes cleanup funding from $300 million to $30 million. Every budget Trump has proposed has called for cuts to the Great Lakes, but Congress rejected his proposals each time.
And the Great Lakes are far from "record deep."
3. "We're opening up car plants in Michigan again for the first time in decades. They're coming in, really pouring in. ... And this has been happening pretty much since I've been president. It's really amazing what's going on ... We've brought back so much industry, so many car companies to Michigan, so we're very happy."
Not true. General Motors plans to close two factories in the state this year and other factories in Ohio and Maryland. Before Trump was elected, Fiat Chrysler announced plans to reopen an old engine plant in Michigan.
4. "In recent months, the Democrat Party has also been aggressively pushing extreme late-term abortion, allowing children to be ripped from their mother's womb up until the moment of birth. In Virginia, the governor stated he would even allow a newborn baby to be executed."
No, Virginia Gov. Ralph Northam does not want to sanction the execution of newborns, which is a felony punishable by death. Northam, who is a physician, was discussing a hypothetical procedure that would occur only in cases of severe deformities or nonviable pregnancy.
5. "After three years of lies and smears and slander, the Russia hoax is finally dead. The collusion delusion is over. The special counsel completed its report and found no collusion and no obstruction ... Total exoneration. Complete vindication."
Mueller's report literally says the investigation "does not exonerate" Trump. The substance of the report is still unknown and is based on a synopsis from Trump's attorney general, William Barr. In the summary, Barr said Mueller did not "draw a conclusion — one way or the other — as to whether the examined conduct constituted obstruction."
Trump, who narrowly won Michigan in the 2016 election, has lost a lot of support in the state, according
to a recent poll
. It found that nearly half of Michigan residents "definitely" will not vote for Trump, compared to 31 percent who said they definitely will.
Get our top picks for the best events in Detroit every Thursday morning. Sign up for our events newsletter.