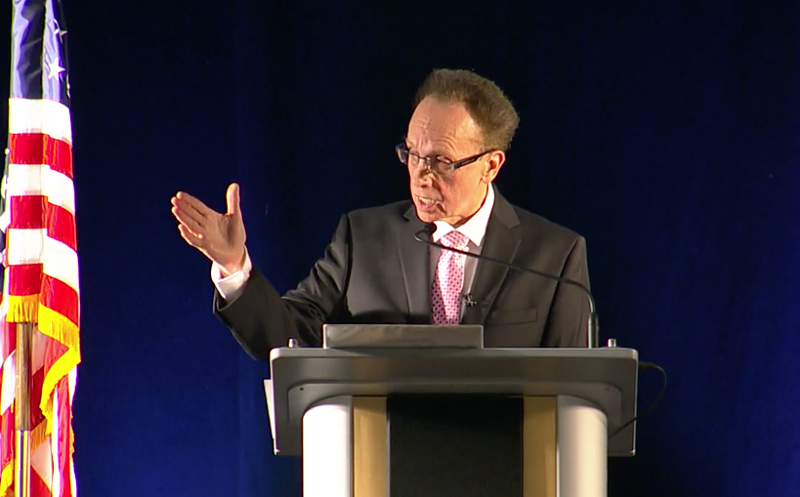 Warren Mayor Jim Fouts has been so popular that he won his past two elections with more than 80 percent of the vote – the largest margins of victory in the city's history.
But a new poll obtained by Metro Times shows Fouts, who has been plagued by scandals and allegations of racism, is shedding support as he vies for a fourth term in the nonpartisan election in November.
The poll conducted this month by the independent Ross Group Research asked more than 300 likely voters whom they would support in a theoretical race between Fouts and former state Sen. Steve Bieda, a popular Democrat who's considering challenging the embattled mayor.
Of those polled, 37.8 percent said they would vote for Fouts, while 29.6 percent would cast a ballot for Bieda. With a margin of error of 5.6 percent, Bieda is well within striking distance.
Perhaps most insightful, though, was that a third of those polled said they are undecided.
Fouts, a 76-year-old former city councilman
and
retired teacher, is most popular among old Republicans. Of voters 75 and older, 62 percent said they would re-elect the mayor, 15 percent would vote for Bieda, and nearly a quarter
were
undecided.
Bieda was more popular among voters younger than 75. Of voters between 40 and 59, 34 percent said they would vote for Bieda, 29 percent would cast a ballot for Fouts, and 37 percent were undecided. Bieda's support was even stronger among voters aged 60 to 74. Of those, 38 percent said they would vote for Bieda, 29 percent would support Fouts, and 34 percent were undecided.
Not enough people between the ages of 18 and 39 participated in the poll to be considered statistically significant.
Bieda also performed better than Fouts among Democrats, with 43 percent saying they would vote for the former state senator. Democratic Gov. Gretchen Whitmer is among more than a dozen high-profile Democrats to call for Fouts' resignation.
Fouts, who claims he's independent but has a history of voting for Republicans, received 27 percent of the Democratic vote, while 29 percent said they were undecided.
Among Republicans, 57 percent said they would vote for Fouts, while 21 percent said they'd cast a ballot for Bieda. Another 22 percent were undecided.
A whopping 46 percent of independents said they were undecided, while 30 percent favored Fouts and 24 percent favored Bieda.
What the poll doesn't account for are the infrequent voters who may go to the polls in droves to oust a mayor who has denigrated African Americans, people with disabilities. and older women.
In a series of damaging recordings released to the media since 2017, Fouts has
compared black people to "chimps,"
called older women "dried-up cunts," mocked people with disabilities, and even boasted about
the ease of picking up teenage prostitutes
in Amsterdam.
Warren may have an ugly, racist past, but the city is becoming more diverse.
According to the U.S. Census, the black population has reached 17.4 percent, up from 2.7 percent in 2000. If African Americans turn out at the polls in high numbers, Fouts could be in trouble.
The mayor, who claims he's pro-life, also could lose votes from older conservatives if his opponents take issue with his deplorable comments about Republican Rick Santorum's 5-year-old daughter, Bella, who was born with a rare and life-threatening genetic condition.
In
an audio recording made public
in January, Fouts in 2015 called Bella a "
mongoloid
baby" who's "got her tongue hanging out the side and all kinds of shit."
"I've heard pro-life people say, 'Isn't that nice?'" Fouts said. "He could have, you know, aborted her."
Another scandal involves the Fouts' relationship with his 32-year-old assistant, Amanda Mika. Since they were caught on video holding hands in 2012, Mika's salary has ballooned 91.4 percent to $76,569. Meanwhile, most city workers endured wage freezes and modest pay hikes.
Whether the mayor can survive the constant scandals is a question that will be decided in November.
Stay on top of Detroit news and views. Sign up for our weekly issue newsletter delivered each Wednesday.