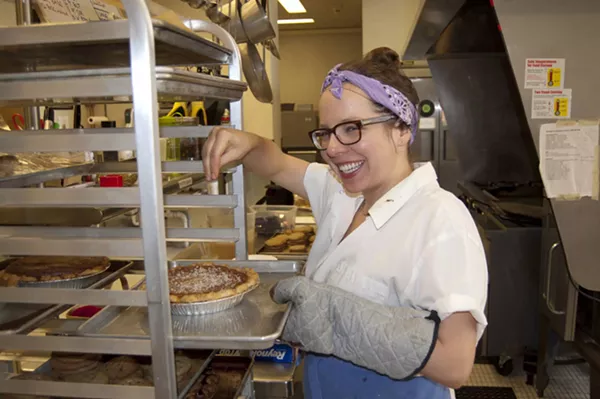 Sister Pie owner Lisa Ludwinski and the Zingerman's Roadhouse are finalists for a James Beard Award in the Outstanding Baker and Outstanding Service categories, respectively.
A James Beard Award is one of the highest honors in food service — the award is often called the "Oscar's of the food industry" — and it's somewhat rare to see Michigan chefs and businesses in the finals.
Ludwinski and Zingerman's were among nine Michigan semi-finalists this year. Five Michigan chefs were up for Best Chef: Great Lakes, including Anthony Lombardo (SheWolf), Norberto Garita (El Barzon), Kate Williams (Lady of the House), James Rigato (Mabel Gray), and Genevieve Vang (Bangkok 96). Selden Standard's pastry chef Lena Sareini was nominated for the second year in a row in the Rising Star Chef of the Year category, which recognizes talented chefs under the age of 30. Meaty Detroit restaurant Marrow was nominated in the Best New Restaurant category.
Among recent winners are Alex Young, who won a 2011 James Beard Award for Best Chef In The Midwest while at Zingerman's Roadhouse, and in 2016 Dearborn's Al-Ameer won in the American Classics category.
So many restaurants, so little time. Find out the latest Detroit dining news with our weekly food newsletter delivered every Friday morning.