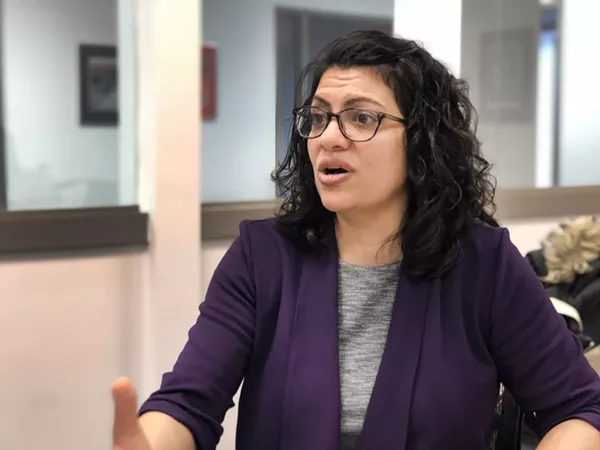 When it comes to U.S. Rep. Rashida Tlaib, the world mostly only knows the highlights — she's one of the first two Muslim women
to serve in Congress
, and she isn't playing
nice with Trump
or the
pro-Israel lobby
.
But while a vocal Muslim woman standing up to the president and powerful lobbies may be what
attracts the national media
, the community organizer-turned-tenacious politician is quietly doing some of her most important work at home.
Tlaib's 13th Congressional District is the nation's third poorest and is composed of Detroit and several working class suburbs around it. She's using her office to establish a broad set of constituent services and anti-poverty programs; co-sponsor legislation that would help address systemic poverty in Detroit; secure federal funding for local municipalities; protect her constituents from the Koch brothers'
petroleum coke piles
; and take on Marathon, a major polluter in Southwest Detroit.
Tlaib says she continues to "fight corporate greed, fight for environmental justice, and working toward universal healthcare — those are important."
"As important is that my residents experience strong advocacy that helps change their lives today. They don't have years to wait around for transformation – they need relief today and that's the 1-2 punch I try to provide in terms of public service," she tells
Metro Times
.
Tlaib notes that she keeps more staff members in her home district than most reps, and they're setting up four neighborhood service centers. Those are different than her offices, and they offer resources and programs that help connect constituents with free legal services or low-income seniors with food assistance, for example. The centers offer a free tax preparation service that helps residents access tax credits, and Tlaib's staff will work with constituents to avert water shut offs.
The centers are also where residents can go to help deal with government agencies. Tlaib says she recently helped a constituent secure $23,000 in social security payments that the Social Security Administration owed him. Many residents' issues can be resolved "with the power of the letterhead or the phone call from the congressional office," Tlaib says. (For a full list of the centers' programs and resources, see the list at the end of the article.)
Earlier this year, Tlaib met with mayors and elected officials in all of her district's municipalities to learn about each community's needs, and set out to find federal funding for their projects. So far, she has submitted 116 appropriations requests for federal money for local schools, Great Lakes clean up, housing assistance, and more. And in Highland Park, Tlaib is working the Whitmer administration to determine if state resources can be used to open a library in the city, which currently doesn't have one.
"Every single city is like, you're the only [U.S. representative] that's ever come and met with us," she says. "Resources and money can change people's lives today, where legislation can take years — up to 10, 15 years sometimes before it really, really impacts people."
Still, legislation is important, and Tlaib highlighted several bills she's co-sponsoring, including one designed to help lower auto insurance rates by barring credit agencies from sharing credit scores with insurance companies. The controversial practice unfairly hits poorer residents, and the law would likely lower auto insurance rates in Detroit.
Meanwhile, Tlaib and Sen. Gary Peters introduced the ''
Petroleum Coke Transparency and Public Health Protection Act
'' that would strengthen federal regulations around petroleum coke storage. In February, Tlaib
joined a protest
outside the Marathon refinery and penned
an op-ed
calling on the city to reject Marathon's request for a variance to an ordinance that requires it to store its toxic pet coke indoors.
Tlaib also co-sponsoring a housing justice bill from Elizabeth Warren that would,
according to the Boston Globe
, "create millions of new affordable housing units and help tackle ongoing housing segregation and the yawning wealth gap between white and black Americans."
Beyond that, she's convened legislative workgroups to help develop legislation around environmental and housing justice.
Tlaib is also vocal in her support for Medicare for all and the Green New Deal, which she says are local issues even though they're part of a national dialogue.
"I mean, how long do we have to keep fighting for affordable prescription drugs?" she asks.
The following is a list of some of the programs, services and resources that Tlaib's 13th Congressional District Neighborhood Service Centers provide. Those wishing to get in touch should call 313-203-7540 or email
[email protected]
-Free tax preparation services, which can save residents hundreds of dollars and help them use tax credits they might not know exist.
-Tax or mortgage foreclosures assistance to help keep people in their homes.
-Assistance with utility shutoffs, including water.
-Assistance with finding free health care services (i.e. federally qualified health centers.)
-Veterans Administration advocacy services from home care needs to mental health.
-Assistance with the FAFSA process for those seeking student aid.
-Assistance with securing social security and disability benefits.
-Connect constituents with free legal services programs and pro-bono clinics.
-Assistance with securing home repair and weatherization grants available for seniors and other homeowners.
-Homeownership advocacy programs that helps those who are renting buy homes.
-Hold Citizenship Days for immigrant constituents that includes a pro-bono clinic and assistance with applying for fee waivers.
-We Have the Right to Breathe campaign which helps residents move through the public hearing and comment process.
-Help senior citizens access food assistance through MI CAFÉ and other food programs.
-Help residents access state emergency relief funds.
Stay on top of Detroit news and views. Sign up for our weekly issue newsletter delivered each Wednesday.