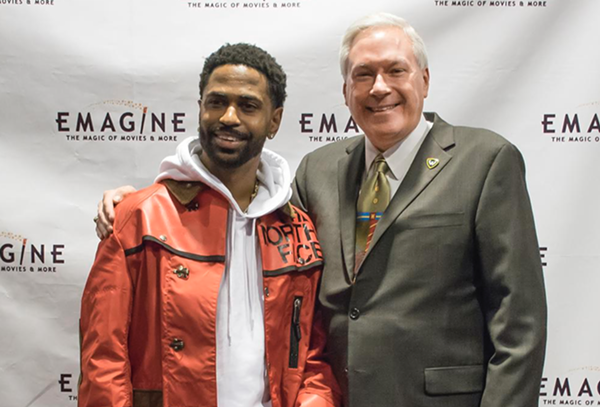 Detroit — a city that has only one first-run chain movie theater — is still expected to get a forthcoming theater from Michigan-based chain Emagine Entertainment Inc., but it looks like it won't be located in the city's Milwaukee Junction neighborhood as previously believed.
Crain's reports
that according to a source familiar with the matter, an entity controlled by Emagine CEO Paul Glantz (you know, the guy who welcomes you onscreen before all Emagine screenings) sold a pair of properties at 318 E. Milwaukee St. and 330 E. Milwaukee St.
The properties were sold for $555,000 to an entity called CLK Milwaukee LLC, which is connected to a marijuana business called Grown Rogue International LLC. The company owns two medical marijuana provisioning centers in Midtown and Hazel Park and is looking into more acquisitions,
Crain's
reports.
We checked in with Emagine Entertainment Inc. CMO Melissa Boudreau, who confirmed that an Emagine theater is in fact still planned for Detroit, but says that the company has not found a location yet.
Last year, Emagine said it was partnering with Detroit rapper Big Sean to open a new theater in Detroit,
possibly opening it
as part of Ford's campus at the former Michigan Central Station. Previously, Emagine said it was looking to open the theater in 2020.
An Emagine would be a welcome addition to Detroit's
once vibrant
theatergoing landscape. The Ren Cen 4 closed after nearly 30 years in 2015. These days, the Bel Air 10 on Eight Mile shows first-run movies, but it's far from the city's core. Midtown's Detroit Film Theatre and Cinema Detroit are more focused on art house films and international films, and historic spots like the Redford Theatre and the Senate Theater are more known for showing older prints.
These are all great spots, but sometimes we just want to buy a giant bag of popcorn and veg out to the latest Marvel movie. (We also wonder when they'll start selling marijuana at the concession stands.)
An Emagine wouldn't be the only major chain in town. Austin-based Alamo Drafthouse Cinemas LLC
is also planning a theater
on Martin Luther King Jr. Boulevard just west of Woodward Avenue in Midtown.
Stay on top of Detroit news and views. Sign up for our weekly issue newsletter delivered each Wednesday.