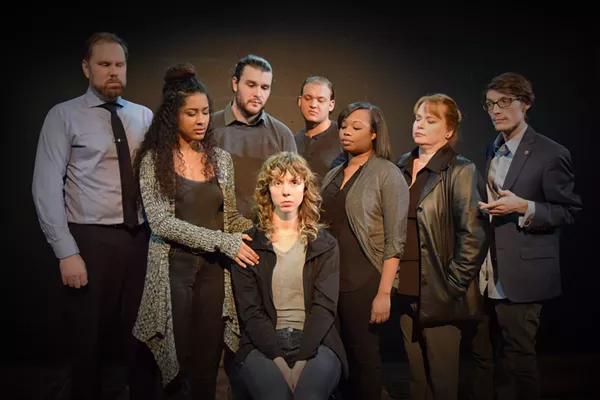 Kaitlyn Valor Bourque threw her computer after reading Lynda Radley's jarring 35-page script for The Interference.

"I had such a visceral reaction," she says. "I flung myself into a closet and broke down crying. I only slept on it for one day before I knew I could tell this story. I didn't trust anyone else to do this story."

Actor, writer, producer, and marketing director at Hamtramck's Planet Ant, Bourque will make her formal directorial debut with The Interference, which opens on Friday, March 22 at Matrix Theatre. The play features 42 characters which, in Bourque's production, are performed by only eight actors — each one woven into the story of its central character, a sexual assault survivor named Karen played by Danielle Peck.

"What I told my cast the other day is that they all have a Karen in their lives whether they know it or not," Bourque says. "There will be Karens in the audience and people who have Karens in the audience."

The award-winning play, described by Bourque as being non-linear and melodic, debuted at the Edinburgh Fringe Festival in 2016, the same year Stanford University student Brock Turner would serve only three months of a six-month sentence for the alleged rape of an unconscious woman.

The Interference made its U.S. debut in 2017, just before the #MeToo movement would go mainstream, one year before Supreme Court Justice Brett Kavanaugh would testify for the alleged sexual assault of Dr. Christine Blasey Ford, and two years before filmmaker dream hampton would assemble countless survivors of singer R. Kelly's decades of abuse.

Bourque reminds us Karen's story isn't new. In fact, much of the story's language is ripped from the headlines.

"The language isn't new. The situation isn't new. None of this is new, yet when I read the script for the first time I saw it in ways I had not seen it before. It's a difficult script," she says. "It's just words."

For that reason, The Interference includes pre-show statistics, resources and comes with a warning to its audience that the show focuses on rape, sexual assault, sexism, misogyny, and victim blaming. Bourque assures there is no graphic content but admits to having given full permission to her cast to take on the roles of some "very terrible people," which she says can be triggering, though with the hopes that it will break barriers.

"What this play does is bring the audience into the intricacies of sexual assault, and while Karen is often stifled in the story, we see her. We hear her. She's given a platform," she says. "And what Lynda Radley did was take something difficult and make it impossible to ignore."

Bourque and her cast have undergone more than 24 rehearsals since The Interference began production in February. She says implementing internal and external self-care for herself and the cast has been key to its success and the well-being of its players, and says she helps "exorcize" the aforementioned "terrible people" from her cast following each run through.

"I've really been trying to drive that home," she says. "Just a reminder of how strong the mind-body connection is."

The blossoming director says this experience has helped build self-trust and reinforced the importance of building a supportive team — themes that also find themselves deeply rooted in Karen's story.

"The first week, I realized I was the final say," she says. "I wasn't asking someone else what they thought, I was that person. Seeing how people trusted me gave me trust in myself and validated that feeling I had when I was alone in my room with the script. It's terrifying and also gratifying to say what I want and letting that be enough."

The Interference will open starting at 8 p.m. on Friday, March 22 at Matrix Theatre Company and will run until April 14; 2730 Bagley St., Detroit; 313-967-0599; matrixtheatre.org; Tickets are $17-$22.
Get our top picks for the best events in Detroit every Thursday morning. Sign up for our events newsletter.