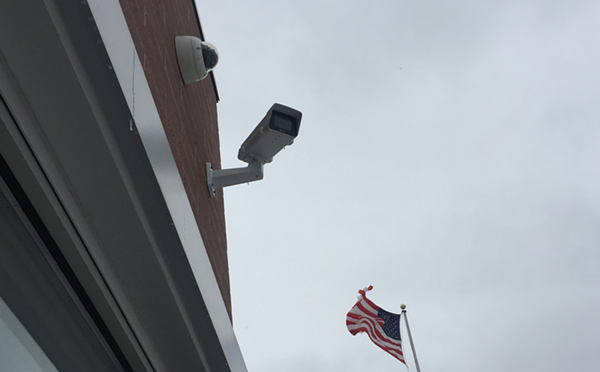 It's not hard for police to track you down from images captured on surveillance cameras.
Without notifying you, the Michigan Secretary of State's Office has been sharing all of its digital photos with
state
police since 1998,
the Free Press reports
.
The database of photos, which also includes pictures scraped from social media during investigations, is enabling police to identify people captured on surveillance networks.
While the technology allows authorities to track down suspects and missing people, there are growing concerns about the government's ability to secretly monitor the public.
Without sufficient scientific standards or government regulations, police departments are not prevented from using the technology to identify immigrants or protesters.
The use of facial recognition technology is already making
the public
uneasy. A
2018 Brookings poll
found that half of Americans "believe there should be limits on the use of facial recognition software by law enforcement." An additional 24 percent are unsure.
The pervasive deployment of surveillance cameras has raised serious concerns from privacy and civil rights advocates who note that the technology is prone to mistakes and abuse.
In Detroit, high-definition surveillance cameras are cropping up at unprecedented rates. On Monday afternoon, Detroit Mayor Mike Duggan and Police Chief James Craig celebrated the 500th business to use real-time, crime-monitoring cameras as part of the city's Project Green Light.
The cameras are monitored 24 hours a day at the city's Real Time Crime Center.
The mayor also announced last week that police will begin having access to about 400 traffic-control cameras that are being installed at major intersections over the next two years by the Department of Public Works. Duggan said the cameras will only be used to investigate crimes, such as murders and carjackings.
"If you're engaged in a shooting, if you're engaged in a carjacking, we will get shots of the perpetrators and we'll be able to chase them down," Duggan said.
Some Detroit council members expressed concerns about the new cameras, particularly in neighborhoods with big immigrant populations. Duggan responded that New York City saw a 90 percent drop in murders after the Big Apple installed a vast network of surveillance cameras.
Stay on top of Detroit news and views. Sign up for our weekly issue newsletter delivered each Wednesday.