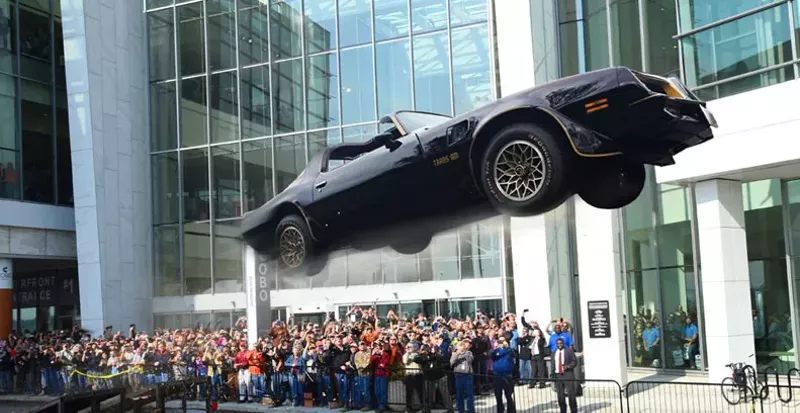 Autorama is off to a
false
start after the Detroit City Council denied the car show's request to do a stunt jump outside of Cobo Hall.
A
Smokey and the Bandit-
themed stunt jump was originally planned to feature a replica of the "Bandit" Pontiac Trans Am featured in the 1977 movie starring the late Burt Reynolds. But city council shot down the stunt jump request because the original "Bandit" vehicle features a Confederate flag on the front license plate.
The annual hot rod show got into hot water with Detroit city council in 2017 after attempting a stunt jump with a replica of "General Lee," the 1969 Dodge Charger featured made famous by
Dukes of Hazzard
. The replica, much like the original, features a prominently displayed Confederate flag painted on the vehicle's roof.
Councilman Scott Benson
told The Detroit News
that the Confederate flag has been prominently on display during the stunt jump for the past two years, despite the organization expressing it would do otherwise.
"Autorama, which has a history in the city of Detroit, also has a history of supporting imagery and symbols of racism, oppression and white supremacy as well as American, home-bred terrorism right here in the United States," Benson told the council at the Tuesday meeting.
Eight members of the city council voted against or expressed their distaste for the stunt jump request at Tuesday's meeting.
A spokesperson for Autorama told
The
News
that the organization was looking to resolve the situation with Detroit City Council.
Metro Times
has reached out for comment.
Coined "America's Greatest Hot Rod Show," Autorama will be holding its 67th annual hot rod event March 1 through March 3 at Cobo Center in downtown Detroit.
Stay on top of Detroit news and views. Sign up for our weekly issue newsletter delivered each Wednesday.