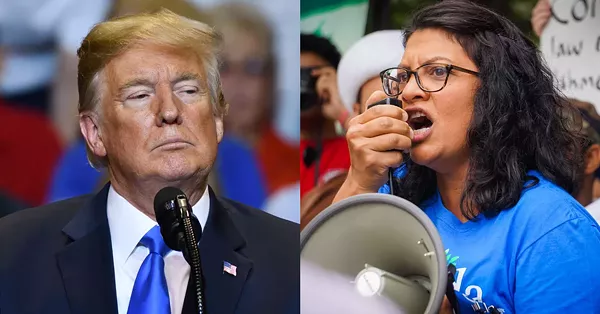 Detroit Congresswoman Rashida Tlaib doubled down on her call to "impeach the motherfucker" following President Donald Trump's declaration of a national emergency.
Trump declared the emergency on Friday as a way to bypass Congress to fund his long-promised Mexican border wall, a move that Democrats and even some Republicans have criticized as an overreach of power. The declaration came as Trump was about to sign off on a bill to prevent another government shutdown, which provided $1.375 billion for border fencing — well short of the $5.7 billion the president has previously demanded
for
a wall.
The national emergency declaration would allow Trump to draw funds from federal military construction and counter-drug efforts to build the wall, though experts have warned such a move would likely be fought against in court.
As plenty of critics have pointed out, Trump's "emergency" is a nonexistent one. Undocumented border crossings into this country are at
a 20-year low
. Immigrants statistically
commit less crimes
than non-immigrants. In 2017,
only six
terrorist suspects were captured at the border.
Tlaib, a vocal critic of Trump's, says she is already moving to fight the declaration.
"This President continues to try and go around the checks and balances in our government to push his racist and harmful policies," Tlaib said in a statement to
Metro Times
. "There is no national emergency and we in Congress must stop this declaration. Americans are facing dire needs with issues such as wages, poverty, and healthcare, yet Trump is fixated on vilifying and terrorizing immigrants who want to come to this country for a better life. Enough is enough. I will work with my colleagues to do everything in our power to halt this declaration."
In an email sent to her mailing list, Tlaib went a step further — asking recipients to
sign a petition
calling on Congress to begin impeachment proceedings against Trump:
Congressmembers took an oath to defend the American people and the Constitution. Trump just threatened all of us in a whole new way. It's Congress's responsibility to start impeachment proceedings.

Donald Trump is unable to accept that the American people handed him and his party an overwhelming defeat at the ballot box in November. More Americans support impeachment than support Trump. Most people in the U.S. don't want a wall. Not a single member of Congress from a district along our southern border is asking for a wall.

And Congress has not voted to appropriate funds for Trump's racist wall.

The National Emergency Act was passed to give the President authority to act when there was a real emergency that needed action faster than Congress could provide it. It's not a remedy for a failed negotiation — and Trump's attempts to use it as such are an unconstitutional abuse of power. They're a dismissal of the core principles of our democracy, including separation of powers.

While many members of Congress are awaiting the findings of Special Counsel Mueller's investigation, more than enough publicly-sourced evidence exists to impeach the President. Whether it's Trump and his family accepting money from foreign interests ― including Saudi nationals ― at their Washington, DC hotel, or the New York Times report of allegations of "outright fraud" by the Trump family to dodge paying their fair share of taxes, or the clear ways Trump has obstructed justice by publicly threatening people who have information on him.

We cannot allow Donald Trump to continue to blatantly undermine our Constitution and the rule of law. It's time to start impeachment proceedings.
With national emergency powers, the president has access to more than 100 special provisions, including the ability to stifle electronic communications, place sanctions on people, or deploy troops in the U.S.
A recent article from
The Atlantic
outlines some of these powers — and how they could hypothetically be abused by a corrupt, power-hungry president.
"While many of these tee up reasonable responses to genuine emergencies, some appear dangerously suited to a leader bent on amassing or retaining power,"
The Atlantic
reports. "For instance, the president can, with the flick of his pen, activate laws allowing him to shut down many kinds of electronic communications inside the United States or freeze Americans' bank accounts."
Meanwhile, Trump plans on dealing with this "national emergency" with
a planned golfing getaway
at Mar-a-Lago.
Stay on top of Detroit news and views. Sign up for our weekly issue newsletter delivered each Wednesday.