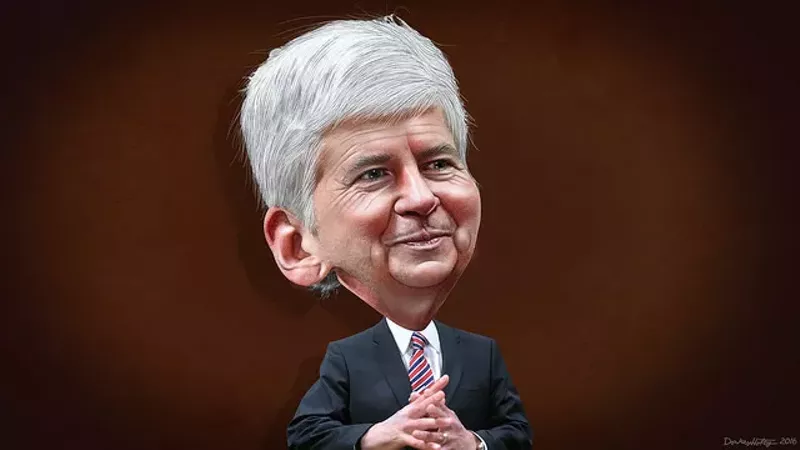 This is what privilege looks like.
Just before Christmas, Gov. Rick Snyder pardoned a 54-year-old Royal Oak man with a felony drunken-driving conviction because he wanted a lucrative promotion at the Michigan Association of Certified Public Accountants,
the Associated Press reports
.
Jim Jagger, who had four drunken-driving convictions, applied for a pardon in late October, saying he was a "leading candidate" to succeed the president of the organization, but the felony conviction would spoil his chances.
"I have a limited window of earning potential left, and I'm trying to maximize it," Jagger told the Michigan parole board.
Less than two months after Jagger applied for the pardon, Snyder wiped off the felony conviction over the protests of the Michigan attorney general and Oakland County Prosecutor Jessica Cooper, who argued a pardon was "special treatment" for a "career drunk driver."
Jagger was among fewer than 100 people to receive a pardon during Snyder's eight years as governor.
Jagger's connections to Snyder aren't entirely clear, but the CPA organization's website brags about its "impeccable relationship" with Snyder. Richard Baird, a senior adviser to Snyder, praised the association in a video on its website, saying the organization was a "steadfast partner in so many of the things that we've done."
Snyder also wiped out a drunken-driving conviction of a Republican-connected lawyer, Alan Gocha, who complained that the misdemeanor made it more difficult to do his job.
"The term 'blind justice' is meant to reaffirm the core concept of the criminal justice system; that people are equal in the eyes of the law, regardless of how rich or poor they are, and regardless of how powerful or powerless they are in society," Cooper wrote in a Nov. 28 letter to the parole board.
Approving Jagger's pardon request "would make a mockery of this concept," Cooper wrote.
Stay on top of Detroit news and views. Sign up for our weekly issue newsletter delivered each Wednesday.