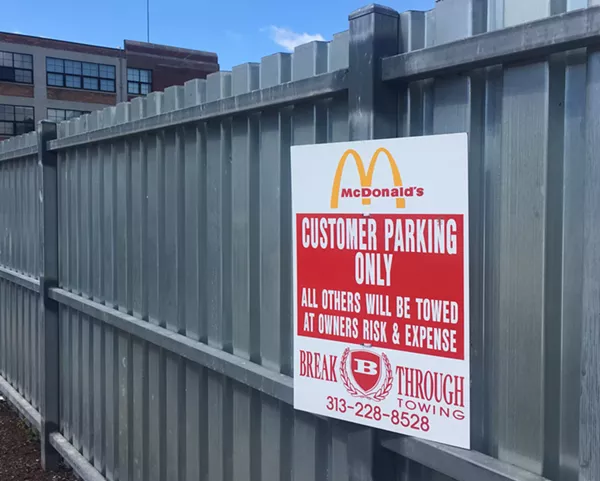 Midtown Detroit's McDonald's has announced it is severing ties with Breakthrough Towing following months of reports from unsatisfied customers who say their cars were improperly towed from the restaurant's small parking lot.
"We take the allegations of Breakthrough Towing's towing practices that may impact McDonald's customers very seriously," reads a statement from Virgirilli Management Company, the company that runs the McDonald's. "We are listening to our customers' concerns and plan to end our relationship with Breakthrough Towing."
According to signs posted at the restaurant, the parking spots are reserved for McDonald's customers only. However, many have come forward in recent months saying that they were paying customers and that their cars were towed while they were still in the restaurant.
The allegations gained traction last summer when one customer published a
YouTube video
alleging a scheme in which an overzealous "spotter" was watching the parking lot, alerting the company to tow cars — even after only a few minutes. The customers were then forced to pay more than $400 to retrieve their vehicles.
Metro Times
' office is right across the street from the McDonald's, and we spent weeks watching the parking lot.
On the first day
we started looking into it, our observations led us to believe that there were in fact spotters parked across the street working for Breakthrough. When we confronted them, they claimed not to know what Breakthrough Towing was and threatened to "smack the camera" out of our hands. Reporters from WJBK
had a similar experience
.
When we called for comment, Breakthrough Towing owner Michael Dickerson also denied that the company used spotters. A spokesman from McDonald's questioned the credibility of the YouTube video and vehemently denied that the company was involved in an alleged towing scheme with Breakthrough.
Eventually,
a class action lawsuit
was filed against Breakthrough, and
AAA announced it was cutting ties
with the company. In November, the city cracked down on the company, issuing
10 blight violations
for its Detroit towing parking lot.
The company also has contracts with nearby Midtown Liquor and the CVS in Hamtramck. We have placed calls to find out if those companies also plan to sever ties with Breakthrough Towing.
Stay on top of Detroit news and views.
Sign up
for our weekly issue newsletter delivered each Wednesday.