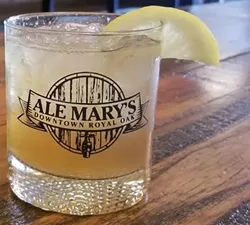 Updated Feb. 14, 2019: Ale Mary's and other Metro Detroit restaurants are no longer serving CBD-infused drinks following a crackdown from local health departments.

Most folks know it simply as CBD, though the scientific name for it is cannabidiol. To many, it's the "safe" cousin of THC — it's a cannabis-derived compound that doesn't get you high. THC was first discovered as the part of marijuana that gets you high, and most of the attention about the plant has been about that. But CBD is quickly overtaking that for its medicinal qualities, considering the spectacular results we've seen it have in controlling some forms of epileptic seizures.

Hemp-derived CBD can be found in many forms — pills, tinctures, creams, oils, edibles — on the shelves of stores that have nothing to do with marijuana. So it should come as no surprise that we can now find it in drinks being served at Ale Mary's Beer Hall in Royal Oak.
General manager Justin Pries says that the establishment, which first opened as a craft beer bar (and now includes a restaurant serving vegan dishes) is now serving drinks with CBD in them. A short list of available CBD-infused libations includes Aunt Bea's CBD Southern Tea, a Raspberry Citrus Hemporita, and the Mellow Melon. And yes, there is alcohol in the drinks, which were developed by house beverage manager Pam Stigall. Their CBD comes from Sprig, sodas that are already for sale off the shelf in Michigan.
When we speak to Pries, they'd only been serving the drinks for a couple of days, but he says there's already been a positive reaction from the public. "I want to hear customers say, 'Gosh, that's a good drink,'" he says. "That's important to me."
It's a testament to how deeply cannabis is infused into our culture that Ale Mary's drinks are made from a soda that already has CBD in it. Each soda contains 20 milligrams of CBD, and each bottle makes four drinks. That means each drink contains about five milligrams of CBD. That's generally less than your typical CBD-infused gummy or hard candy, which run from about 10 to 25 milligrams of CBD each.
"It's still evolving," says Pries. "We're working on other cocktails, using oils and things like that. This is just to get our foot in the door. It's going to be quite a bit more. What we're doing now, it comes basically prepackaged. We want to make sure we're using quality stuff and using it correctly."
If there is more to come at Ale Mary's, then there is plenty more to come elsewhere as businesses test the waters on what sells and what the law will allow. For instance, mixing alcohol with THC is against the law in Michigan. A law passed in October banned the use, possession, or sale of marijuana-infused beer, wine, liquor, and mixed drinks. Hemp-derived CBD seems to have been given a pass because hemp is a cannabis plant with less than .3 percent THC, and therefore will not get you high.
CBD is believed to have pain relieving, anxiety reducing, and anti-nausea properties. It's also being researched for possible neuroprotective and heart health effects, as well as anti-tumor possibilities. Dr. Nina Robb of Integrity Medicine in Southfield says that she recommends patients start with 20-25 milligrams of CBD twice daily for pain control — although it varies.
As folks try to figure out how marijuana can fit into the social atmosphere and users try to find ways to use it while socializing in public, it may be ironic that while cannabis has been prized for its THC, it may be CBD that leads the way in social acceptance of the plant.
Just to be able to order CBD-infused drinks in Royal Oak shows how quietly the substance has moved forward while most folks were looking the other way. CBD's potential is so big that it's possible that THC will one day become an afterthought.
It really took off when Dr. Sanjay Gupta showed children with epilepsy getting relief with CBD on CNN. What's happening now is that elderly church ladies are finding that it relieves their aching knees. Next thing you know they'll be ordering drinks with the stuff in it.
Pries says there have been no complaints from the customers so far as he hints at more to come. Last week's rollout of Ale Mary's first three offerings was about getting out there ahead of the competition. That poses the question: Are we headed toward a future of CBD cocktail parties? Will someone at the bar order a drink with "double CBD" because the boss got on their last nerve today?
After all this time as little brother, could CBD become the new THC when it comes to cannabis chic?

So many restaurants, so little time. Sign up for our weekly food newsletter delivered every Friday morning for the latest Detroit dining news.