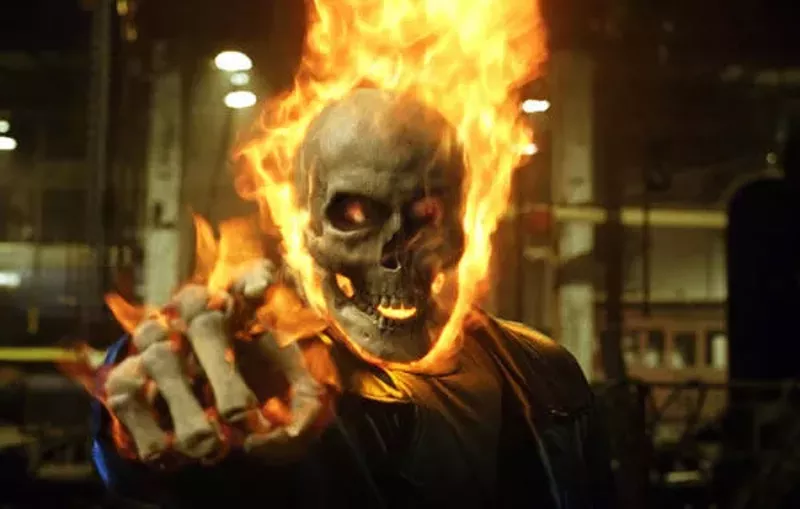 Hamtramck's annual celebration of all things Nicolas Cage — the Nicolas Uncaged film festival, now in its sixth year — has announced the date for this year's event, as well as some other goodies.
The fest will return to Hamtramck's Planet Ant Hall on Saturday, Feb. 23 with a double feature of two of the prolific actor's 2011 films —
Ghost Rider: Spirit of Vengeance
and
Drive Angry
.
Not only that, but in honor of
Ghost Rider
's flaming, motorcycle-riding protagonist, Johnny Blaze, "Uncaged" organizers say they have something special in store this year.
They plan to set a man on fire during intermission.
It's not just any man they're setting ablaze. The fest has secured the talents of none other than Cage stuntman Schuyler White. Not only that, but the festival organizers say they hope to break a Guinness World Record for the longest full-body burn.
Apparently, setting people on fire (legally, safely) is not cheap. That's why the festival is crowdfunding money to do everything above the board. They say they need $3,000 just in supplies and safety measures, and another $10,000 to fly in the Guinness folks from England. Anything extra will be donated to the Hamtramck Fire Department, who will be on hand to make sure White and festival attendees are safe.
Full disclosure,
Metro Times
' Jerilyn Jordan became part of the event's organizing committee after interviewing both Nicolas Cage for
Interview magazine
and Nicolas Uncaged founder Jack Schulz
here in MT
. Since she has actually spoken to Cage, the organizers quickly came to regard her as some sort of
oracle
. Jordan says everyone involved hopes that the stunt will help coax Cage himself to crash the festival, which would
not be unprecedented
.
Per a press release:
Nicolas UnCaged 6 will screen both Ghost Rider: Spirit of Vengeance and the wildly under-appreciated Drive Angry (a film that may or may not have gone straight to DVD and a film that may or may not involve intercourse and a gunfight simultaneously). Per usual, we will offer food for purchase, a social hour, as well as a talent and appreciation segment where we invite everyone and anyone to perform a prepared song, monologue, or a story about the guy who starred in "at least 93" movies (at least 17 of them involving fire.) The event will roll out some thematic drink specials, a photo booth, prizes for the person who best embodies the spirit of Cage through costume and attitude, and a priceless opportunity to socialize with over 300 people who have Cage in common.
Tickets are available
here
for $26 and the GoFundMe page is
here
. So far, they have raised $60 of the $13,000 goal.
Below, you can find the trailers for both films.
Get our top picks for the best events in Detroit every Thursday morning. Sign up for our events newsletter.