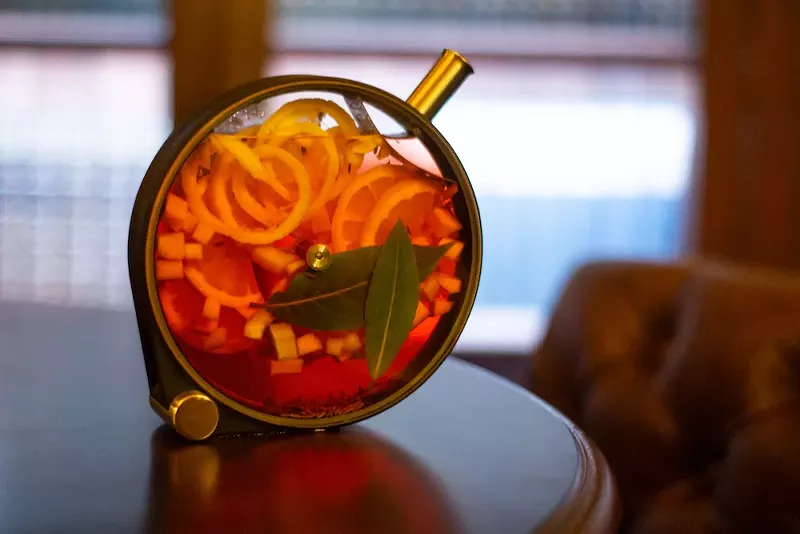 On Monday, Detroit is getting a brand new cocktail lounge within the exclusive doors of the Detroit Club.
Unlike much of the Detroit Club, the Library will be open to the public and will offer small plates in addition to its menu of premium wines, spirits,
and
cocktails. According to a press release, the Library's libations will be curated by Tara Jagodzinski and Mitch Nigl, who boast more than 10 years of experience in the luxury dining.
"Our drinks are texture-oriented, brought about with modern and
century-old
techniques, which has allowed us to develop a novel drinking experience inside the club that built Detroit," Nigl says in a statement.
The interior of the Library will feature soft warm lighting from the Detroit Club's 20-foot crystal chandelier and will be surrounded by deep oak paneling and an integrated bookcase, giving The Library a warm and rustic appeal.
Located at Fort Street and Cass Avenue in downtown Detroit, the Library is strategically opening its doors just in time for the North American International Auto Show, which will take place from Jan. 14-27 at the nearby Cobo Arena.
The Library will be open on Tuesdays through Thursdays from 5 p.m. to 10 p.m. and Fridays and Saturdays from 5 p.m. to 2 a.m.
So many restaurants, so little time. Sign up for our weekly food newsletter delivered every Friday morning for the latest Detroit dining news.