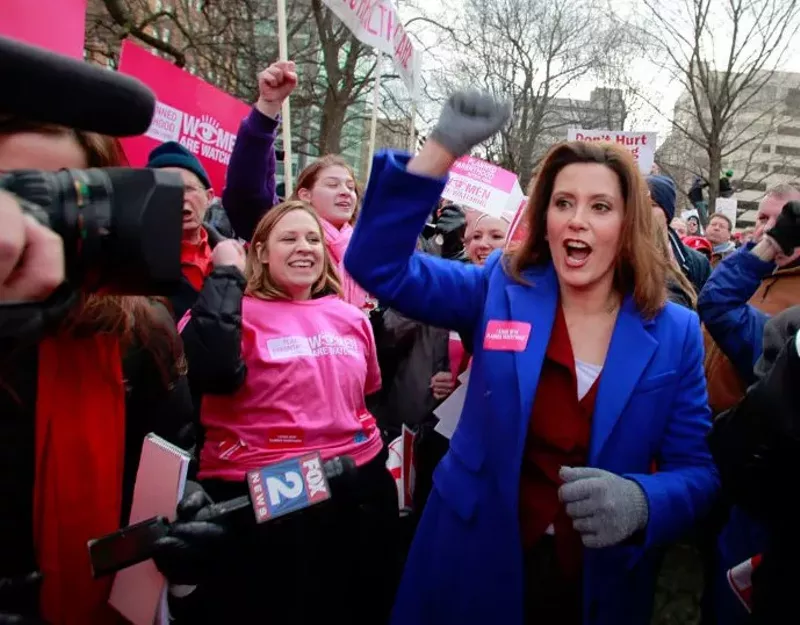 Gov. Gretchen Whitmer on Monday signed an executive directive that will help protect the LGBTQ community from discrimination in state employment and contracting.
A similar December directive issued by then-Gov. Rick Snyder barred state contractors from discriminating against gay or transgender employees, but included a "religious freedom" exemption that allowed churches and other religious organizations to discriminate.
Whitmer's directive — which she signed at Affirmations, an LGBTQ center in Ferndale — requires holy rollers to follow the same rules.
In a press release, state Sen. Jeremy Moss — Michigan's first openly gay senator — outlined what the directive does.
He writes that it will clarify that employment protections cover all state employees, including classified and unclassified employees; require all recipients of state contracts, grants and loans to extend protections to their employees; prohibit discrimination in state services; and extend prohibitions on discrimination to include discrimination on the basis of sexual orientation and gender identity or expression — which will now be consistent with the action taken by the Michigan Civil Rights Commission in May 2017.
"If we're going to attract the talented workforce our businesses need to create jobs and grow our economy, then we've got to get on the right side of history," Whitmer said in a news release. "That's what this executive directive is all about."
In his release, Moss said the legislature still has work to do "to ensure full equality for the entire LGBT community."
"No Michigander should be fired or denied housing due to who they love or who they are. We must amend the Elliott-Larsen Civil Rights Act to protect all Michiganders who face discrimination based on their sexual orientation or gender identity," he said. "I'm ready to push this work forward in the State Senate."
The decision earned praise from progressive groups.
"Governor Whitmer's decision to take meaningful steps toward equality for everyone in Michigan is a welcome move toward ensuring our friends and family in the LGBTQ community are no longer treated as second-class citizens. Everyone deserves to have the freedom to love and identify as their authentic selves," said Lonnie Scott, executive director of Progress Michigan. "We've been pleased with what we've seen out of Gov. Whitmer's administration in the past week. It's a sign that Michigan is moving in a more progressive direction."
Stay on top of Detroit news and views. Sign up for our weekly issue newsletter delivered each Wednesday.