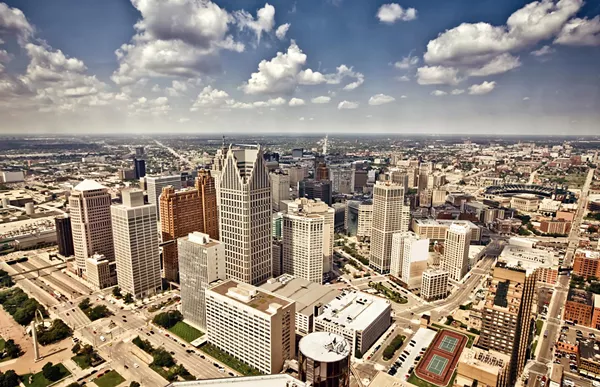 Detroit Free Press's
self-described "liberal-minded" business reporter and columnist John Gallagher
is once again
doing a not-so-liberal-minded thing — asking Michigan taxpayers to cough up more money to help the state's wealthiest residents get even richer.
In a Thursday
column
, Gallagher calls for more tax breaks for wealthy developers, arguing the state should revive the historic preservation tax credit, which covered up to 25 percent of a project's cost before it was eliminated in 2011. Proposed legislation to reinstate the credits would provide developers with an income tax credit equal to 25 percent of a project's costs.
Gallagher is framing it as a tax break for the "little guy," but that's largely untrue. What's worse, however, is his timing.
He calls for more tax money for developers a week after Michigan legislators
shuffled money from schools to roads
, because there's not enough tax revenue to pay for both. He also does so after the state approved
a $190 million tax cut for the wealthy
during lame duck. And Gallagher does so even though the state cut its public assistance for poor residents by $140 million between 2011 and 2017, according to the Michigan League for Public Policy.
Even though the Michigan Legislature
approved $1 billion in new state tax incentives
for Dan Gilbert and other rich developers, Gallagher is out there calling for more.
And though Michigan hands out more breaks to developers and corporations than
all but two states
, Gallagher says it needs to give more. Developers have at their disposal other incentives like
OPRAs
,
Brownfields
,
Transformational Brownfields
, federal historic tax credits,
Renaissance Zone
credits, and so on.
The
Free Press
wants more tax breaks for the rich even though
income inequality in Michigan is worse than in most other states
— the top one percent here (the people who would benefit the most from the credits) earn about 22 times more than the bottom 99 percent.
Gallagher also calls for the diversion of more tax money even though
Domino's Pizza is paying to fix potholes
because our underfunded government no longer has the financial means to provide basic services.
How could anyone watch a pizza company pay to fill potholes and claim the solution is more tax breaks for the rich?
Gallagher says he supports this incentive because it's a "little guy's" credit that's used by "homeowners or shopkeepers to rehabilitate their historic but aging structures" in neighborhoods like Indian Village or Boston Edison.
That may be true, but it's not a good thing once one digs beneath the surface. The credit could only be used on structures with historic designation, and in 2018 the people who are buying and renovating homes in places like Indian Village, Boston Edison, or any other historic district in Detroit are likely to be wealthier, white, and from the suburbs. The credit does nothing for the vast majority of the city's residents, and Gallagher's assertion that giving white people from the suburbs more tax breaks will "anchor a broader recovery in our cities" is code for "trickle down economics." That policy is already failing Detroit.
Similarly, those who are buying historic properties in places like Ann Arbor, Ypsilanti, Grand Rapids, Traverse City, and many other Michigan cities also aren't in need of more tax breaks.
Still, a legislator we spoke with who usually opposes such incentives noted that historic districts in towns like Adrian or Tecumseh aren't experiencing the same economic boom as those in downtown Detroit or Ann Arbor. That's a fair point, but legislation could be tailored to only benefit those towns, or caps could be put in place.
If not, some of the wealthiest developers will get even richer as the rest of the state continues to suffer. And even Gallagher isn't pretending the credit isn't a gift to the rich. As he says, the break "would also create one more tool to help big developers bring their downtown projects online faster" — by that, he means developers can pay back investors quicker and start padding their own bank accounts.
What happens if we don't make available the historic tax credits? To get that answer, all you have to do is look at the economic rebound in and around downtown Detroit's historic districts since the credits were eliminated in 2011.
Stay on top of Detroit news and views. Sign up for our weekly issue newsletter delivered each Wednesday.