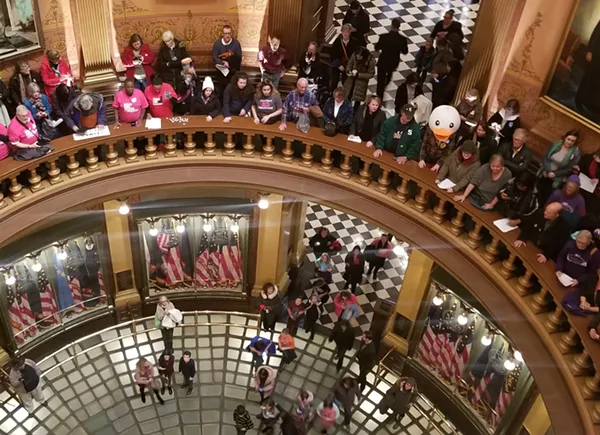 The GOP-controlled Michigan state House approved a bill on Wednesday that would strip power from incoming Democratic Attorney General Dana Nessel.
House Bill 6553
grants the Republican-led legislature authority to jump into any court case in which residents are challenging the GOP's
unpopular laws
. Nessel has said she won't use state resources to fight for laws that she sees as unconstitutional, such as one that allows adoption agencies to choose not to adopt to same-sex couples.
"As you know, we're seeing more and more public policy decided in courts," he said, failing to note the legislature's history of passing highly controversial laws that are often overturned by the courts because they are
unconstitutional
.
Democrats zeroed in on the separation of powers written into the state's constitution, noting that the legislature is attempting to take power from the executive branch. Addressing the legislature, Democratic Rep. Robert Wittenberg called the law "unconstitutional."
"[The bill] is simple because it's short, but it's very far-reaching, and it's nothing short of an unconstitutional power grab pushed by a party unwilling to accept the will of Michigan's voters," he said, adding that he feels the proposal is "vindictive."
"What the bill does is it robs power from one branch and gives it to another," he said. "It's inappropriate, unacceptable and it goes against our constitution."
A similar bill that would strip authority from Democratic Secretary Of State-elect Jocelyn Benson is working its way through the state Senate.
Michigan Republican's power grab is gaining
national attention
, and the GOP is trying similar moves in Wisconsin, Ohio, and North Carolina — all states where it controls both legislative chambers because it gerrymandered legislative districts.
Democratic Gov.-elect Gretchen Whitmer takes office on Jan. 1. She'll break Republicans' hold on both legislative chambers and the governor's mansion, and would likely veto any attempt to take authority from Nessel.
Stay on top of Detroit news and views. Sign up for our weekly issue newsletter delivered each Wednesday.