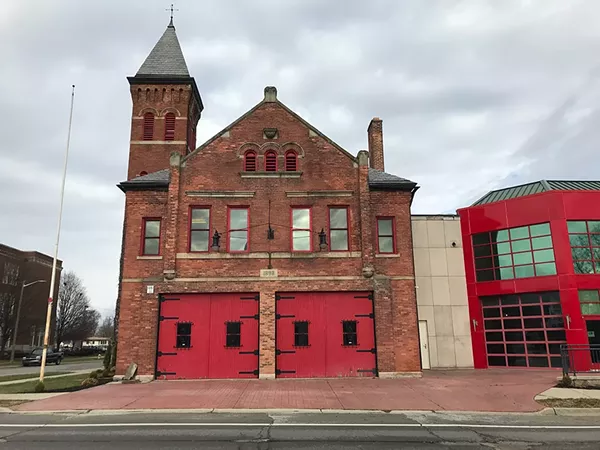 When Al G. Dyer Jr. took over as director of Ypsilanti's Michigan Firehouse Museum in July, he was warned that he'd likely be contacted by ghost hunters interested in the building's
alleged paranormal activity
. In the past the museum had received plenty of such requests, but had typically turned them down.
Sure enough, Dyer says a ghost hunter from Ohio called up and asked if he could tour the space. Parting with his predecessors, Dyer obliged.
"I guess the guy from Ohio got super excited and called a friend from Detroit, and said, 'You're not going to believe it, we get to go into the firehouse!'" Dyer says. He wound up staying up ghost hunting with the small group until 3 a.m.
"It was more of a 'Tell me what you think, is this place exciting for you?'" he says. "They were both very much like, 'You have an excellent haunted house. And you need to let people come in.'"
Thus, the museum will host its first-ever Para-Con on Saturday. The one-day festival will feature a panel of paranormal enthusiasts and investigators, including Weird Lectures host
John E.L. Tenney
, Scott Porter of the Tennessee Wraith Chasers, and psychic medium Stephanie Burke. Later, a group of 50 VIP ticket-holders will be able to go on a midnight ghost hunt in the building, led by professional ghost hunters.
As far of the actual nature of the museum's alleged haunting, Dyer says he is still trying to get the story straight. The gist of it is this: The former fire station's chief Alonzo Miller died in 1940, and is believed to haunt the building. Immediately after his death, Miller's crews reported hearing strange noises in the station, with reports extending into the 1970s.
Dyer says a popular misconception is that Miller died in a fire in the building. While the fire station did, ironically, catch fire twice, Dyer says this happened earlier, in 1901 and 1922. He hopes Para-Con will help firm up the story in local lore.
The way Dyer sees it, events like Para-Con are a way to get a new audience into the museum. "They've kind of done the same events," he says of the museum, which features historic Michigan fire trucks and equipment. "It's cool if you're a young parent and you want to bring your kids to the museum to look at fire trucks, and it's cool if you're a retired firefighter and you can reminisce about your career. But what's the appeal to that 20- and 30-year-old generation that doesn't have kids? So why not capitalize on a terrific 120-year-old history with some crazy legends and lore behind it?"
Weird Lectures' Tenney sees Para-Con as part of a larger trend of the past decade or so, where organizations tasked with looking after historic buildings have embraced their alleged paranormal history to drum up interest and raise funds. He points to the Orson Starr House in his hometown of Royal Oak, which was able to raise funds for a new roof and porch thanks in part to hosting ghost hunting tours.
"Whether or not there is an actual haunted history, doing an event like this is a way to get the name of the place out and let people know about it," he says. "For America being such a young country, anything 120 years old and still standing that you can still go inside of is really interesting to people. Ghost hunting is just a way to get that done."
When asked if he has experienced any sort of paranormal activity at the museum, Dyer says some women who work in the museum's office told him they would return to the office in the morning to find a filing cabinet drawer open by itself. "I was like, 'OK, so obviously we have a ghost who likes doing office work,'" he says. While rearranging the furniture, Dyer says he readjusted the filing cabinet's foot pegs, and hasn't had an issue with it since. "I've been a firefighter for 24 years," he says. "When I experience something weird, I know construction, I know building techniques, I know common sense things."
That said, Dyer has since become an enthusiastic supporter of Ypsilanti's paranormal history, and has been learning about
other bits of local lore
, such as an alleged ghost cat that haunts the city. He says he can envision Ypsi going all in and expanding to entire paranormal activity festival, with local restaurants offering special spooky-themed menu items.
"Twenty-something years ago, Ann Arbor was the super-cool progressive, alternative city," he says. "It still has remained that, but like most cities like that it attracts people, gets gentrified, and kind of turns around. What I'm seeing in Ypsilanti right now is what I'm seeing in Ann Arbor twenty years ago — a really cool grassroots mom and pop business type of community coming together. It's weird, it's strange, but it's fun."
The inaugural Para-Con will take place at Michigan Firehouse Museum,
110 W. Cross St., Ypsilanti; 734-547-0663; michiganfirehousemuseum.org; Convention is 6 p.m.-midnight, VIP ghost hunt is midnight-3 a.m.; Tickets are $30 for general admission, and $125 for VIP ghost hunt and available here.
Get our top picks for the best events in Detroit every Thursday morning. Sign up for our events newsletter.