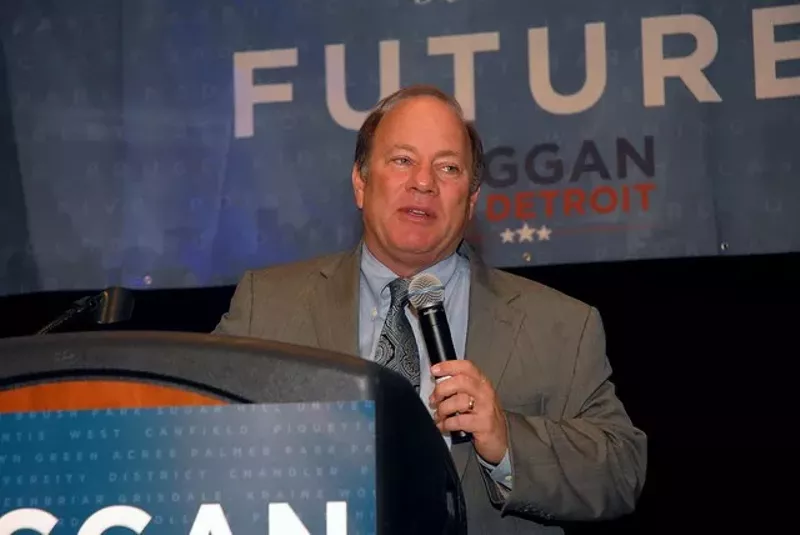 Private eye detectives? An alleged affair? A wiretapped businessman and lawsuits abound? Yeah, sounds like Detroit politics.
In recent weeks, Robert Carmack's ongoing feud with Mayor Duggan has brought the politician even more into the public eye. Most recently, Carmack, a collision shop owner with a long-held grudge against Duggan and a slate of lawsuits with the city, filed a suit against Duggan that claims the mayor does not live in Detroit as required of elected city officials.
Duggan refuted the claim Monday morning at a press conference, calling the suit the "most bizarre," and adding that "everything in our entire life is at the Manoogian Mansion," according to Crain's.
He went on to tell reporters Monday that Carmack has threatened to release more "embarrassing" video surveillance on Wednesday unless the city settles two ongoing lawsuits with Carmack.
Crain's reports that the situation forces Duggan to "choose between protecting the interests of the city or protecting my family. And [the family] had some long conversations. They are fully supporting my decision that the mayor of Detroit has got to put the interests of the people first."
Duggan also announced Monday morning that he contacted Michigan State Police and is urging an investigation into Carmack's threats to release the embarrassing videos.
"No matter how painful the consequences may be, I am not going to give in to these threats," Duggan told reporters.
Earlier this month, Carmack hired private detectives to tail Duggan after work hours and then, in an effort that he says cost him $20,000, broadcasted an edited video on two giant monitors affixed to a truck in front of city hall. The video appeared to show Duggan entering a suburban home hours after a woman, who is not Duggan's wife, arrived at the same location, according to the annotated video.
In a joint statement the next day, Duggan and his wife, Lori Maher, refuted Carmack's implication that Duggan is having an affair.
"We decided to write this statement together because we are proud of the marriage we've built over 32 years, proud that our bond today remains strong, and proud of our goal to spend the rest of our lives together," the statement reads.
Adding to a plot fit for a Black Mirror episode, Carmack is the key witness in City Councilman Gabe Leland's bribery case and has recently donated $100,000 to the reward for information on the murder of slain dancer Tamara Greene.
Will Feuer is a fall editorial intern at Metro Times.

Stay on top of Detroit news and views. Sign up for our weekly issue newsletter delivered each Wednesday.