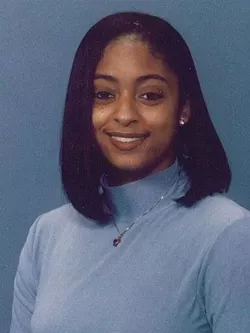 There could be more than $250,000 available for a tipster with information that could solve the murder of Tamara Greene, a stripper who was killed in 2003with alleged ties to disgraced former Detroit Mayor Kwame Kilpatrick.
Earlier this month, a donor
added $100,000
to the $2,500 in the Crime Stoppers of Michigan's reward fund, and later added another $50,000 — bringing the total to $152,500.
Metro Times
initially reported that Greene family attorney Norman Yatooma had donated the $100,000 to the reward fund, based on a press conference held by Yatooma earlier this month in which he made the claim. However, Crime Stoppers of Michigan says it was not Yatooma who had donated to the fund but rather controversial Detroit businessman Robert Carmack. (Why Carmack would donate to the fund is unclear, although it could be an attempt to drum up some positive publicity as Carmack is embroiled in
an ugly land dispute
with the city.)
When asked about the discrepancy, a spokesman for Yatooma provided a balance to
Metro Times
showing an additional sum of $100,000 in a "Tamara Greene reward fund." When we showed that to Crime Stoppers, a spokeswoman said the organization cannot consider the donation as part of its official Tamara Greene fund because they have not been given the money yet. For it to count, Yatooma will have to cut a check to the organization and sign a contract, which Crime Stoppers says he has not yet done.
Giving Yatooma the benefit of the doubt, we emailed his spokesman to tell him that he has to actually give Crime Stoppers the money for it to be added to the fund. In a response, Yatooma says his $100,000 reward is separate and in addition to the one offered from Crime Stoppers.
"To be clear, our money is not for Crime Stoppers but rather for whomever provides information that leads to the prosecution of Tammy's murderer," he writes. "The police agency that the tipster chooses is of no import to us. They can call Crime Stoppers, our office, or the DPD directly. If a person is charged with her murder, that tipster will receive $100k from our firm. The reward money has been deposited, you have been provided the account statement, and I have now publicly made that pledge. Our interest is simply in providing long overdue justice to three kids who lost their mother to the evil intent of another. It's time for that person to finally pay for that fatal crime."
$252,500 ought to loosen some lips.
Greene, who was known as a dancer named "Strawberry" and a mother of three, was alleged to have attended a long-rumored but never proven party at the Mayor's Manoogian Mansion in 2002. On April 30, 2003, Greene was shot in a drive-by while dropping off her boyfriend Eric "Big E" Mitchell at his home near Roselawn and West Outer Drive in northwest Detroit. The drive-by vehicle was believed to be a white Chevy Trailblazer, according to police.
Tipsters with any information are asked to contact
Crime Stoppers of Michigan
at 1-800-773-2587.
Stay on top of Detroit news and views. Sign up for our weekly issue newsletter delivered each Wednesday.