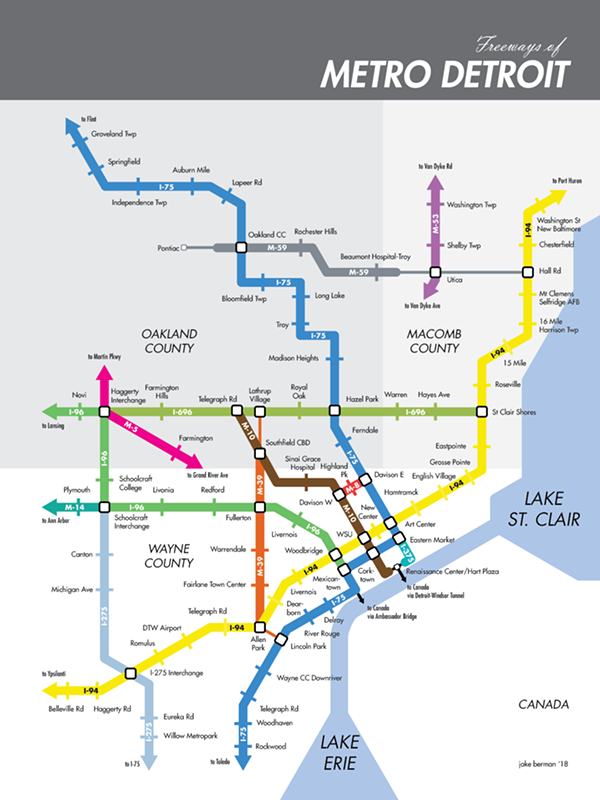 What would Detroit look like with a New York-style subway system? We'll probably never know. A century ago, a subway plan was floated,
and thwarted
, and the future is looking more like autonomous vehicles every day.
But that doesn't mean we can't dream.
NYC-based artist Jake Berman of Fifty-Three Studio created a map reimagining metro Detroit's freeways as subway lines. The artist created the map with the help of the
r/Detriot
Reddit board.
The map uses a mix of streets, landmarks, and cities as the imaginary line stops. "I'm following the standard style in mass transit, where they freely mix landmarks, cities, and street names as appropriate for clarity's sake," Berman explains on Reddit.
"My initial thought was to mark every exit, but that caused a gigantic headache when you get into downtown Detroit," he says. "('M-10 /Rosa Parks Boulevard-Southfield, Civic Center' was the one that killed me.)" He also notes that he took some artistic liberties in creating "geographical distortions" for legibility's sake.
Still, it's pretty cool. You can see more of Berman's work on his website
fiftythree.studio
, where he has given other cities the subway treatment (and where he has even visualized the plot lines of
the original Star Wars trilogy as subway maps
). Prints of the maps,
including Detroit's
, are also available to purchase.
Stay on top of Detroit news and views. Sign up for our weekly issue newsletter delivered each Wednesday.