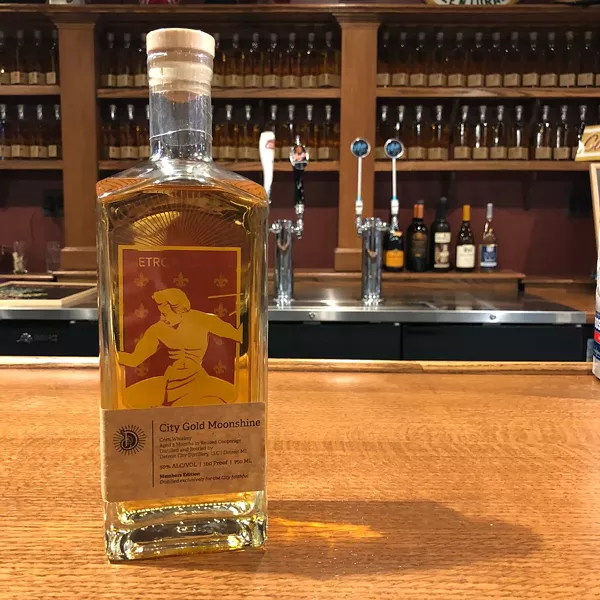 Hamtramck once famously boasted the most liquor licenses per capita in the country, so perhaps it's a nod to a storied and boozy past that Hamtramck-based Detroit City FC will launch their own moonshine on Thursday.
In partnership with Eastern Market-based
Detroit City Distillery
, the soccer team will debut their trademark City Gold moonshine at a Nov. 15 release party at their
new Elmwood Park Clubhouse
at 5:30 p.m. This is the second batch of limited-release brew for Detroit City FC, following the City American Pale Ale produced by one of the club's sponsors, Ferndale-based
Axle Brewing Co
.
"We are proud to carry the title of Probably The Only Team In America With Its Own Moonshine™️," the team
tweeted
Monday.
One bottle of the 100-proof corn whiskey will set you back a cool $125, but they come adorned with the club's red and gold emblem, a take on the Spirit of Detroit. "Distilled exclusively for the City faithful," each bottle reads.

The whiskey will be exclusively available - and must be consumed - at the community-oriented Detroit City FC Clubhouse, which flaunts two indoor fields for amateur leagues, a team merchandise store and a sports bar packed with team relics like signed jerseys, scarves, and trophies. They also recently bought a fern, which regulars are excited about.
"The only catch to City Gold is that you can only acquire and consume it at City Clubhouse," reads an advertisement for the bottle. "You can buy your own personal bottle of this shockingly smooth city libation and it will rest on the shelf at the Clubhouse, awaiting your return."
It's unclear how many bottles of the "moonshine" will be released, but supplies are limited.
Aged three months in a reused cooperage, the City Gold moonshine is in line with Detroit City Distillery's reputation for producing high-end, small-batch bespoke bourbons and other liquors. The distillery uses organic, locally grown Michigan ingredients and has been known to even source botanicals from their neighborhood.
"This is what happens when farm boys turn city slickers and open a distillery in America's oldest, largest public farmers market," their website reads.
Looks like the DCFC community could get even rowdier.
Will Feuer is an editorial intern at Metro Times.
So many restaurants, so little time. Sign up for our weekly food newsletter delivered every Friday morning for the latest Detroit dining news.