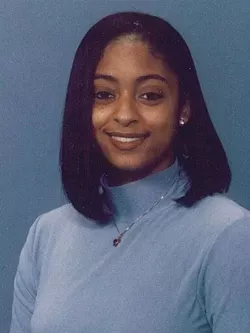 The search for information that could solve the 2003 murder of Tamara Greene, a then-27-year-old stripper rumored to have attended an alleged Manoogian Mansion party under Mayor Kwame Kilpatrick, has been revived — thanks to a hefty $102,500 reward for information that leads to an arrest.
An anonymous donor added $100,000 to the reward this week.
"Every single tipster we talked to, every person who called in anonymously, every single person that disguised their number, their voice, every single person was afraid," said Greene family attorney Norman Yatooma in a Wednesday press conference.
Greene, who was known as a dancer named "Strawberry" and a mother of three, is a main character in one of Detroit's most persistent urban legends: It was rumored that Greene gave Kilpatrick a lap dance at an alleged party at the Manoogian mansion in 2002, was caught by Kilpatrick's wife and physically attacked, and later murdered by Detroit police to keep quiet. The party has still never actually been proven to have occurred, however.
What we do know: Greene was dropping off boyfriend Eric "Big E" Mitchell at his home near Roselawn and West Outer Drive in northwest Detroit around 3:40 a.m. on April 30, 2003 when a white Chevy Trailblazer pulled up and someone fired shots, according to police. Greene's family sued the city in federal court in 2005 alleging a cover-up; the case was dismissed in 2011, citing a lack of evidence.
Tipsters with any information are asked to contact
Crime Stoppers of Michigan
at 1-800-773-2587.
Interest in Greene has been revived in recent years. In 2011, Detroit Free Press writer Carol Teegardin wrote a book called
Strawberry, How an Exotic Dancer Toppled Detroit's Hip-Hop Mayor
, which was made into a stage play,
Strawberry — What Party?,
which debuted last year.
Stay on top of Detroit news and views. Sign up for our weekly issue newsletter delivered each Wednesday.