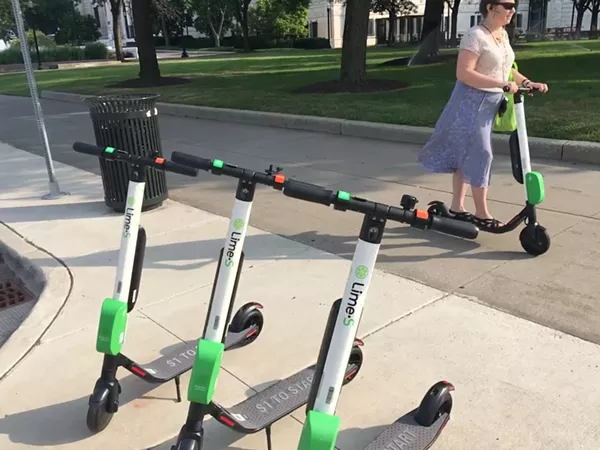 Scooters are here to stay, it seems.
The city of Detroit announced it will increase the number of allotted electric scooters per ride-share company by 100 — bringing the total number for both Lime and Bird scooters to 400 each.
The choice to increase the preexisting cap on scooters comes with a requirement that each company must now agree to deploy at least 100 scooters in neighborhoods beyond the downtown core. The new plan, which went into effect Wednesday, expands the scooters into the city's seven districts. Under this structure, Bird would be required to include 15 scooters in Districts 1-6 and 10 in District 7, whereas Lime must deploy 20 scooters throughout Districts 3-7.
"This initiative is particularly important in a city where 33 percent of residents are without reliable transportation," Detroit City Councilman Scott Benson shared in the press release. "This mobility option helps people get around neighborhoods with fun and ease."
Additionally, the city announced that a Community Advisory Board will be formed to aid in public engagement as to how scooters can best serve residents, businesses, as well as address safety, mobility, and inclusivity concerns.
Last week, the city put new regulations in gear regarding scooter usage (as well as some statistics on scooter injuries and deaths. Surprisingly, there have only been two reported scooter-related casualties in fellow scootin' states.) Unsurprisingly, the city reminds that scooters are meant to transport one person at a time, children under the age of 19 must wear a helmet, and you still have to stay off sidewalks and yield to pedestrians.
No word yet as to how
Spin
— the San Francisco-based electric scooter company that confirmed its plans for a Detroit launch last month — fits into all of this.
The full legislative text can be found
here
.
Stay on top of Detroit news and views. Sign up for our weekly issue newsletter delivered each Wednesday.